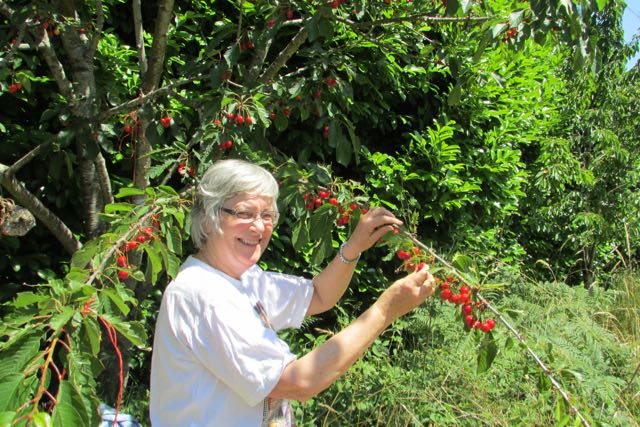 God made us to be creative, and one of the places I enjoy experimenting is in the kitchen. I find that creative cooking is a spiritual practice for me that makes me appreciate the creative character and generosity of God.
I grew up in a household where cooking was always by the book. Yes we made everything from scratch but we never deviated one ounce from the recipe. The results were always good but sometimes a little boring.
Then I married Tom. He loved recipes, but only as starting place. Nothing he made looked like the original recipe and his creations were usually more delicious than the original.
When I started vegetable gardening his creativity rubbed off big time. There is nothing like an overwhelming harvest of fruit and vegetables to stir ones creative juices and force one to come up with new recipes. Some of my favourites I have already shared:
Northwest Tomatillo and Apple Hot Sauce,
However it is time to get creative again as I enjoy the rich harvest God has provided. This week I picked over 20 lbs of cherries from our trees and decided that something new was in order. I love chocolate with cherries and almonds in it and decided that muffins or bread with similar inclusions were in order. I hunting for a recipe for Cherry Chocolate Bread and began to experiment.
As per usual I have adapted the recipes I found – cut back on the sugar, substituted yoghurt for sour cream, added almonds and almond extract and used wheat flour rather than white – the results I think are delicious and several of these will be ready to pull out of the freezer for our unexpected guests over the next few months.
Chocolate Chip Cherry Bread or Muffins:
1 cup all-purpose flour
1 1/2 cups whole wheat flour
1 cup brown or raw sugar
1/3 cup unsweetened cocoa powder
2 teaspoons baking powder
1 teaspoon baking soda
1 cup sour cream or yoghurt
1/2 cup milk
1/3 cup vegetable oil
2 eggs, beaten
1 teaspoon almond extract
1 teaspoon vanilla extract
1 1/2 cups fresh dark sweet cherries, pitted and chopped
1 cup semisweet chocolate chips
Preheat an oven to 400 degrees F (200 degrees C). Grease 24 muffin cups or 2 loaf tins or line with parchment paper.
Stir together the flour, sugar, cocoa powder, baking powder, and baking soda, in a separate large bowl, and make a well in the center; set aside. Whisk together the yoghurt, milk, vegetable oil, eggs, vanilla and almond extract in a bowl until evenly blended. Pour themixture into the well, then stir in the flour mixture until just combined. Fold in the cherries and chocolate chips. Spoon into prepared muffin cups, or loaf tins filling half full.
Bake until a toothpick inserted into centers comes out clean, about 20 to 25 minutes for muffins 40-45 mins for loaf. Cool in pan on wire rack 5 minutes. Remove from pan and cool completely on wire rack. Store tightly covered at room temperature.