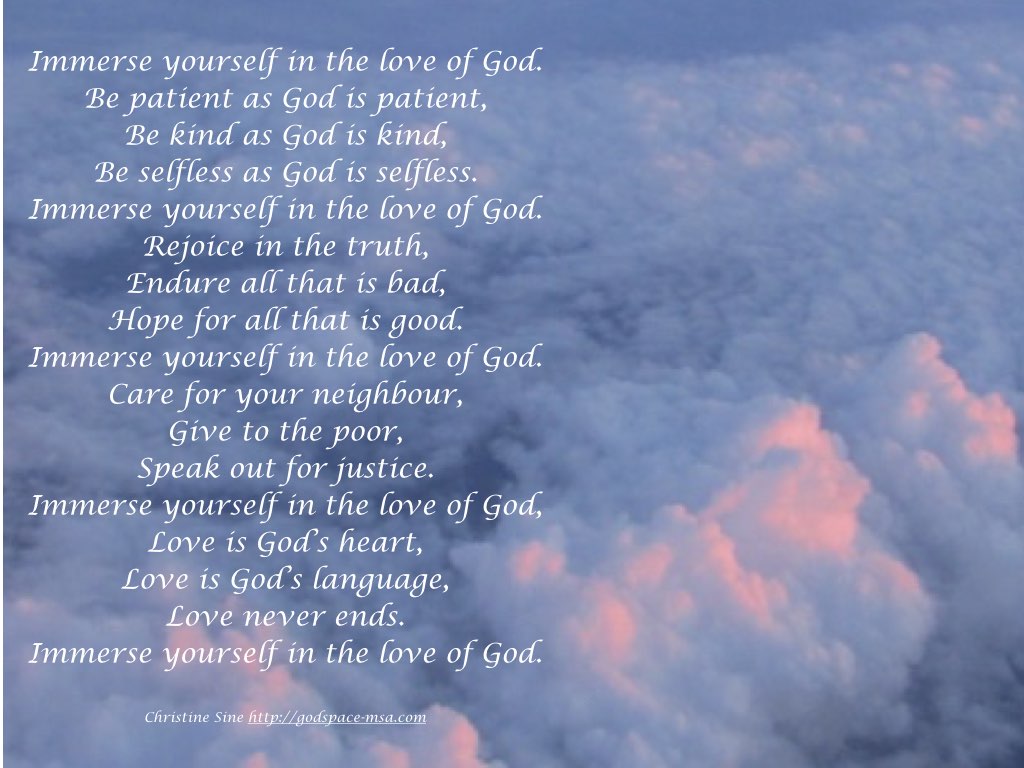 I wrote this prayer several years ago after spending time meditating on 1 Corinthians 13. I am periodically drawn back to the prayer, especially when I find myself struggling with the spiteful reactions of Christians to issues like same sex marriage and immigration reform.
Immersing ourselves in the love of God is not about some warm fuzzy feeling that makes us glow when we think about God. Nor is it about aggressive approaches to doctrine and theology. It is not our doctrine but our love that shows God to others.
Immersing ourselves in the love of God is about immersing ourselves in the situations that break God's heart, without worrying about whether everyone has crossed their theological Ts and dotted their doctrinal Is. It is about seeking to sense God's heart in the midst of challenging situations and accepting others no matter how differently from us they think.
Jesus said to his disciples: "Love each other. Just as I have loved you, you should love each other. Your love for one another will prove to the world that you are my disciples." (John 13:34, 35) yet so often it seems to me that what the world sees is not love but hate. 
Interestingly, when I posted the prayer on the Light for the Journey Facebook page last week, it became the most popular prayer of the week. I think we all crave for God's love to be manifested in our world. Our hearts ache for the hatred to be overcome by love. We really do need to immerse ourselves in the love of God and commit to the journey God takes us on as a result.