"This post is part of the June synchroblog that invited bloggers to write about "Hospitality". This is a topic that is very close to my heart. It was the focus for your Celtic retreat last year, and for a blog series over last summer. My husband and I love to practice hospitality in our home, and see it as central to our ministry.
Yet over the last twelve months my motivation towards hospitality has been sorely challenged and I wanted to share some of these struggles with you.
As many of you know the property we own on Camano Island where we are slowly developing a Center for Imagination and Innovation has been vandalized, not once but repeatedly and the level of violence has escalated.
At last year's retreat, we grieved over the destruction of our windows, that had been shot at and destroyed. My thoughts towards the vandals were not very loving and hospitable.
Then I read the words of our opening liturgy:
God you show us that hospitality opens doorways into your eternal world.
the sun is at its height, or the moon and stars pierce the darkness,
May this place be always open.
May it never be closed to anyone, lest we should close it to Christ himself.
God transfixed me. And I was not the only one impacted by the words. How do we show hospitality to those who have vandalized our property became quite a discussion point. We talked about everything from putting up signs inviting them to lunch, to trying to have someone meet and befriend them or even putting up a shooting target with a sign saying "Please shoot this not our building". We even talked about how to "redeem" the broken glass by creating a mural or other art form with the shards. Perhaps we could even incorporate some of the spent shotgun shells.
Just before we left the site , Andy Wade and I stood in our chapel area, talking about the acts of vandalism which began with the destruction of our Celtic cross – just a tree branch nailed to another tree with vines woven for the circle, but symbolic of who we are and what we want this land to represent. As we talked I walked behind the altar, and there in the grass was a rusty old piece of junk that looked just like a Celtic cross. I felt God was saying:
Accept my hospitality. Garbage into gold, I can restore, redeem and make new all that is created.
It was a very heartening note on which to end the retreat though its implications continue to resound in my head, reminding me of the principles of restorative justice rather than punitive justice. In looking for resources on restorative justice I came across this fascinating pdf downloadable book The Little Book Of Restorative Justice  which has just jumped to the top of my reading list.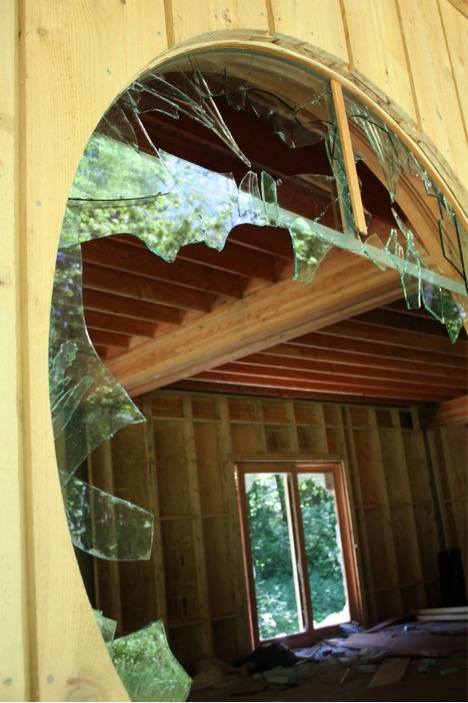 This year, in spite of last year's encouragement, is even more of a challenge. Our replacement windows have been totally destroyed and once again we are struggling to feel hospitable in the midst of violence. Now we are asking ourselves What does a Gospel reconciler do?, a question that has led to hospitality at many different levels already as I suggested in my previous post Assessing the MSV Damage Discernment Works.
First it has invited us to be hospitable to each other by inviting as many collaborators as possible into our discernment process.
Second it has invited us to be hospitable to the community around us, seeking ways to collaborate with a community that until now has seen us as outsiders.
Third it has challenged us to continue seeking to be hospitable to our vandals, whoever they might be. Having committed ourselves to be hospitable, means we must reach out in reconciliation, not retribution.
Hospitality is sometimes a painful commitment. It means loving not hating, as we have seen in Charleston this week. It means seeking for peace not war. And it means being willing to sit down at table with all those who have despitefully used us to seek for peace and healing.
Celtic Christians believed that hospitality opened doorways to the kingdom of God. We have already caught glimpses of that and look forward to the day that the doorways are fully open.
————————————————————————————————
Other posts in the series:
A Sacred Rebel – Hospitality
Carol Kuniholme – Violent Unwelcome. Holy Embrace.
Glen Hager – Aunt Berthie
Leah Sophia – welcoming one another
Mary – The Space of Hospitality
Jeremy Myers – Why I Let a "Murderer" Live in My House
Loveday Anyim – Is Christian Hospitality a Dead Way of Life?
Tony Ijeh – Is Hospitality Still a Vital Part of Christianity Today?
Clara Ogwuazor Mbamalu – Have we replaced Hospitality with Hostility?
Liz Dyer – Prayer For The Week – Let us be God's hospitality in the world
K.W. Leslie – Christian Hospitality