Here is another recipe that I make frequently at this season when there are more peas and bok choy in the garden than we can possibly eat is this adaptation of Phad Thai. I made this a couple of days ago for our good friends, Paul and Liz Sparks – their enthusiasm for the recipe inspired me to post it here.
I love to experiment – not just with spiritual practices but also with recipes. Just as there is no failure in the garden, there is no failure in the kitchen either, just learning experiences. Have some fun, experiment for yourself, create new recipes adopted to your tastes and to what your garden produces.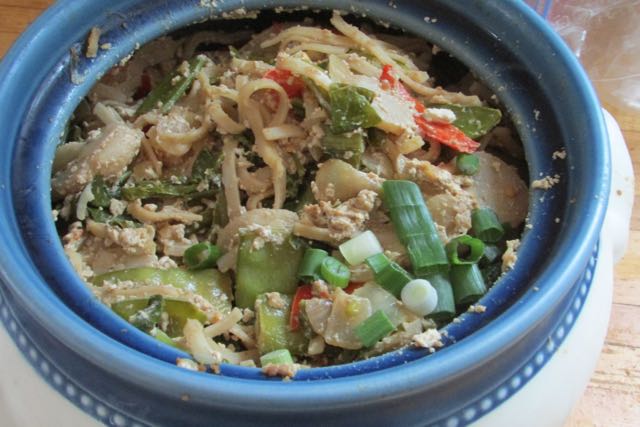 INGREDIENTS:
– 3 tablespoons Thai Sweet Chili sauce
– 1/2 cup Soy sauce
– 1./2 cup old fashioned peanut butter
– 1 package flat rice noodles , (1 lb package)
– 1/8 cup sesame or peanut oil
– 1 medium onion
– 1/2 cup bean sprouts
– 2 cloves garlic
– 1 pound bok choy
– 1 pound tofu
– 1/2 pound snow peas
– 1/2 pound broccoli florets
– 1 medium red bell (capsicum) peppers, chopped
– 2 tablespoons apple cider vinegar
– 1 cup peanuts or cashews
– 6 green onion
– 1 cup Shitake Mushrooms, optional
METHOD:
1. For Sauce: Combine chili sauce, soy sauce, apple cider and peanut butter. Stir until uniform and set aside
2. Noodles: Put noodles in a large pot of boiling water. Turn off heat and soak for 5 minutes. Remove from the pan, drain, rinse in cold water until cool. Cut with scissors several times to create smaller pieces.
3. Vegetables: Heat oil add onions, garlic, and bell pepper. Stir fry for about 5 minutes. Add greens, mushrooms and snow peas, stir fry 2 minutes, add tofu and stir fry an additional 2 minutes.
4. Add noodles and peanut butter mixture to the vegetables. Stir for 2 minutes.
5. Garnishes: Serve with bean sprouts, green onions, and nuts as garnishes. For those that like it hot have more sweet chili sauce and hot chili flakes available.
SERVINGS: 10
SOURCE: Christine Sine