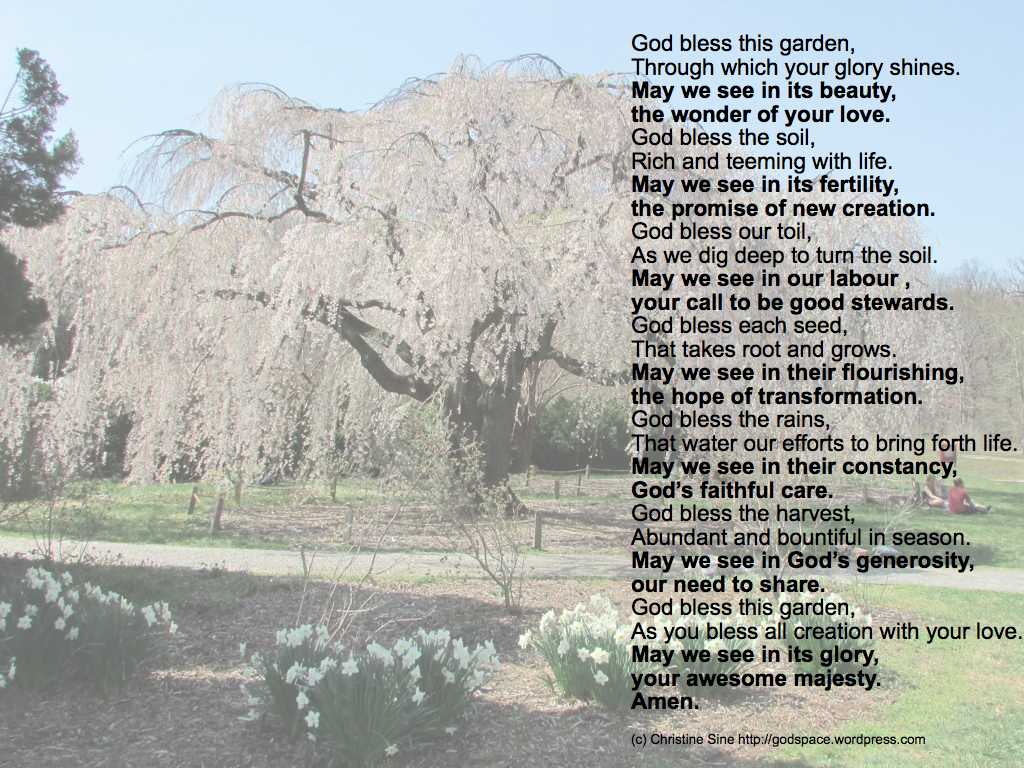 A couple of days ago I was asked for a resource list for Earth day and so thought it was about time that I posted on this topic. Here are some of the best that I have found to add to the prayers and liturgies I have already posted on this blog
Prayers and Liturgies
Let All Creation Praise has links to a number of great resources.
An array of great resources from A Rocha Canada which celebrates Good Seed Sunday April 26th.
A range of prayers from Earth Ministry
Green heart education has some good Earth day prayers from different religious perspectives.
Catholic Climate Covenant posted an excellent list of resources last year.
A downloadable prayer resource compiled by the Committee for Social Justice and the Office of Religious & Family Life Education
Prayers from St Francis and Hildegard von Bingen on the Web of Creation
Evangelical Environmental Network also has a variety of creation care resources.
And a wonderful garden reflection from MSA colleague Andy Wade
Earth Day Resources on Godspace:
Here is a compilation of all the resources I have posted for Earth day over the last few years:
Earth Day Prayers for 2015
Native American Prayers for Earth Day
A Garden blessing for Earth Day 2013
Earth Day Liturgy – probably my favourite
A Liturgy for Celebration of Creation
And don't forget our FREE DOWNLOAD – Creating a Faith Based Community Garden.
A Few Books to Read
It is impossible for me to list all the books that make good reading for Earth day from a faith perspective. Here are a few that I have read in the last couple of years that I recommend:
Introducing Evangelical Ecotheology by Daniel Brunner, Jennifer Butler and A.J. Swoboda. A great resource that is biblically rooted and historically informed. It enables us to deepen our witness on behalf of creation.
A Climate of Hope: Church and Mission in a warming world. by Claire Dawson and Dr Mick Pope. A well thought out Australian perspective on climate change and our Christian responsibility. Lots of good stories from Australia and abroad.
Planted: A Story of Creation, Calling and Community by Leah Kostamo. I love this little book. Easy to read with lots of delightful stories. Leah works with A Rocha Canada.
Onward and Upward in the Garden: Katherine S White. This is a timeless classic. Written in 1958 it is a refreshing collection of essays about gardening, writing and the inspiration we receive.
Bringing It to the Table: On Farming and Food by Wendell Berry. Another classic from one of my favourite authors challenging us to become more conscious of the lives of those who produce our foo and the world from which our food comes.
To Garden with God by Christine Sine. A collection of reflections on faith and gardening. I am amazed at the ways that people have used this book to help them connect their faith and their time in the garden
Resources for Kids
Several downloadable prayer services for kids from Green Bookee
A couple of great Earth day videos for kids