April 22nd is Earth Day so keeping that in mind, I thought that I would focus on a craft that draws us into reflection on God's good creation. I came across this creative cool craft project from poopscapecom (love that name don't you?).
Collect and decorate humble river or garden rocks with gold leaf to create a beautiful decoration for your desk, home, or backyard, a wonderful and enduring reminder to pray for the earth and very simple for those that have a black thumb.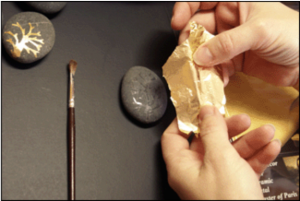 You will need:
a selection of river rocks (should be smooth), thoroughly washed and dried
gold leaf
a small brush
small sharp scissors (for making those dainty cuts) or an x-acto knife
Step by Step instructions are available at poopscapecom. Photos above by poopscapecom.