I sit here on Ash Wednesday thinking about reconciliation. Webster's defines reconciliation as the resolution of differences. And my body reminds me of how long it has been overtaxed. I am reaping the dubious rewards of decades of misuse. I have a rib which dislocates apparently on a whim, next to no useable cartilage in my right hip socket, and a spine which has been broken repeatedly. I am not paralyzed solely by the grace of God.Bad luck, but what does this have to do with repentance and surrendering that which prevents me from intimacy with God?
I learned to not take care of my body, the vessel given me by God to house my soul and carry out His work from my family and my life experiences. This is not to fault my family. They couldn't teach me what they didn't know. What they knew was how to survive. So I survived. Not exactly the picture of abundant life offered by Our Lord. My life has been defined by repeated trauma of various types and emotional abuse. I deal with two chronic illnesses: bi-polar disorder and non-serological Rheumatoid Arthritis.
In 1998, the CDC published a long term study documenting the strong correlation between adverse childhood experiences (ACES) and a number of chronic diseases, social and emotional difficulties. The ACES study recognizes three categories of adverse childhood experiences: household dysfunction, abuse, and neglect. Household dysfunction includes substance abuse, divorce and or separation of parents, mental illness, spousal battery, and criminal activity. Abuse can be psychological, sexual, or physical. Neglect can be both physical and emotional.
People with higher ACE scores have increased risks for alcoholism, chronic depression, perpetrating domestic violence, liver disease, smoking, COPD, rape, and attempted suicide. We are more likely to engage in high risk sexual behavior as teens. Our work performance can be impaired adversely impacting our finances. And we have a higher rate of antidepressant prescription usage. Those of us who have survived repeated childhood trauma suffer a double whammy. Long after the actual trauma has taken place our bodies show the wear and tear. When I'm feeling particularly worn out, it feels like my body can't stop fighting. The external threats are gone; some of them are dead, even. But my body is still primed for defense and when it can't find anything external to fight, it fights me. I am not the only survivor who feels like she's in a pitched battle against herself.
So this Lent, I am focused on reconciling with my body. I ask forgiveness not for having suffered childhood trauma, but for perpetuating the self-disdain, disgust, and outright self-hatred that resulted from that trauma. It is tremendously difficult to live into the greatest commandments: to love the Lord Your God with all your heart, and with all your soul, and with all your mind, and with all your strength…and your neighbor as yourself when you don't know how. I can't love others and hate me.
As a Christian, it pains me to acknowledge this about myself. As the Missioner of Christian Formation for my church, I am tasked to model mature faith for the youth in my congregation. I take this charge seriously. It is my dearest hope and highest goal for my kids to be whole, healthy, faithful Christians engaged in loving service to God's creation. I know that I cannot give when I am depleted from lack of care for my body and soul. So do they.
I repent of punishing myself because I was hurt and somehow concluded it was my fault. I repent of accepting as truth the devaluation of my person based on the malice of others. Finally, I repent of treating my body as though it was a curse rather than the blessing God intended it to be. I choose to ground myself in the reality of God's love. May we all learn to love God, our neighbors and ourselves better this Lent.
Sources:
Trident Reference Publishing. The New International Webster's Standard
         Dictionary, 2006 edition. 2006. Trident Reference Publishing.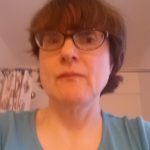 Michelle Pittenger is the Missioner for Christian Formation at St. Mary's Episcopal Church in Lompoc, CA 93436. She is currently in the discernment process. She is also trained in The Color of Woman Intentional Creativity method as an artist. She can be reached @ formation@stmaryslompoc.org.