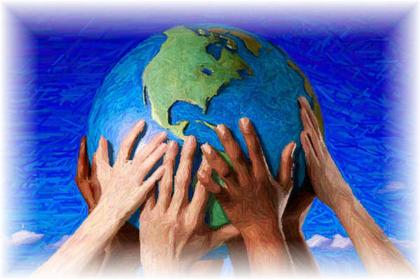 Until 2005, I lived in the United States with a "green card," the document that allows immigrants to live and work, but not vote, in the country. At a young age, my children thoroughly enjoyed looking at my "green card" – which is not green in color – that carried a bold title "Resident Alien." "Ha! Ha! Mommy is an alien!" And those babes born on American soil would laugh their heads off.
To be an alien is to be an outsider, to be separate and excluded, and to be without hope of belonging to and fully participating in the larger circle (Ephesians 2:11-12). Before Jesus Christ gave himself on the cross, this was the world Jews and Gentiles lived in – the Jews were in, and the uncircumcised Gentiles were out. In fact, Paul was writing this letter to the Ephesians while in prison, because he was falsely accused of bringing Gentiles into the area of the temple beyond the dividing wall (Acts 21:27-29), that area that only those who were "in" were allowed to enter.
Nevertheless, in just a few verses later (Ephesians 2:14-15), Paul goes on to boldly declare: "For [Christ] himself is our peace, who has made the two one and has destroyed the barrier, the dividing wall of hostility, by abolishing in his flesh the law with its commandments and regulations. His purpose was to create in himself one new άνθρωπος (translated "new man" in NIV, "new kind of human being" in the Message).
Almost 2,000 years after Paul wrote these words, how is the church in America doing in the business of racial reconciliation?
Nashville-based LifeWay Research conducted a study of church segregation, the results of which were published in Christianity Today 1/15/15. The researchers surveyed 994 churchgoers as well as 1,000 Protestant senior pastors. They discovered that more than half disagree with the statement, "My church needs to become more ethnically diverse." And those who oppose increasing diversity do so with passion.
Ed Stetzer, Lifeway's Executive Director, said, "Surprisingly, most churchgoers are content with the ethnic status quo in their churches… Yet, it's hard for Christians to say they are united in Christ when they are congregating separately."
 In 1963, not long after giving his now-famous speech "I Have A Dream," Martin Luther King Jr. said, "We must face the fact that in America, the church is still the most segregated major institution in America."
King's dream was by no means "original." When Christ uttered "It is finished" on the cross, the curtain in the temple was "torn in two from top to bottom" (Matthew 27:51). Jesus' "purpose was to create in himself one new ανθρωπος" (Ephesians 2:15). This purpose was so important to him that he was willing to give his life for it.
He also said, "A new command I give you: Love one another… By this all will know that you are my disciples, if you love one another" (John 13:34). But how can we love one another when our worshippers are so divided along racial-ethnic lines, when whites, blacks, Asians, and Latinos do not even intersect, let alone sharing leadership and power, with one another?
As we journey through the Lent season of 2015, what pierces my heart is not the fact that segregation still happens in our churches. What is disturbing is the fact that a great majority of churchgoers do not see any need to change! A great number of churchgoing, professing Christians have totally missed the "purpose" Christ died for!
Perhaps this Lent the church in America needs to hear a call to reflect on what Christ died for, and to repent of our failure to live out that "purpose." For if you love [only] those who love you, what credit do you earn? Aren't even the run-of-the-mill sinners doing this? And if you hang out only with your own kind, how are you better than the pagans? (Matthew 5:46-47, my translation)
Bio
Theresa Froehlich is a native of Hong Kong. She has been in the professional roles of accountant, pastor, and life coach. She is married to Hervey Froehlich, and they have two young adult children.