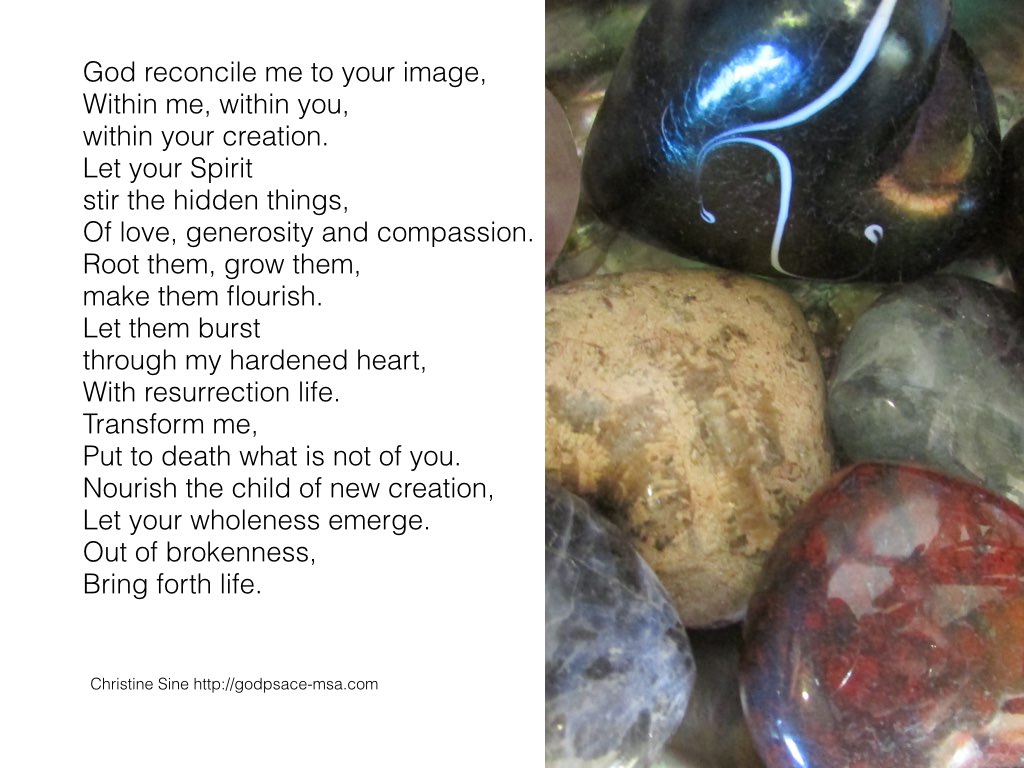 One of my favourite books is Parker Palmer's A Hidden Wholeness. Drawing on Thomas Merton's phrase there is in all things a hidden wholeness, Parker explains that:
Wholeness does not mean perfection: it means embracing brokenness as an integral part of life. Knowing this gives me hope that human wholeness — mine, yours, ours — need not be a utopian dream, if we can use devastation as a seedbed for new life.
The idea that there lies within all of us the seeds of God's wholeness is both heart warming and challenging. This image of God within us, the child of God's new creation of love and peace and mutuality, has been birthed and wants to live and grow. Allowing it to grow to wholeness is a deliberate choice, one that means accepting and being reconciled to this image of God within us and also to the image of God within others.
Making that choice, Palmer argues, requires that we create spaces within ourselves and between us and others where the soul feels safe enough to show up and make its claim on our lives.
What is your response.
Sit quietly for a few moments resting in the loving presence of God. Read the prayer above several times. What characteristics of God have been birthed in your life and want to grow into wholeness? Is it love, generosity or compassion. Is it a passion for justice or love of creation? Where has the Holy Spirit been nudging you to be transformed into the image that is emerging within you?
Sometimes we don't want to be reconciled to God's image. There are times when I would rather be selfish than loving, times when I want to hold onto what God asks me to share. There are times when I am aware of this image emerging but resent it – I look back to the leeks and garlic of Egypt with longing and wish that I could go back. To allow God's wholeness to emerge means putting to death all that resists the ways of God. It is a struggle of denial.
What is your response?
As human beings, our greatness lies not so much in being able to remake the world… as in being able to remake ourselves. -Mohandas K. Gandhi
We do not really remake ourselves. It is the spirit of God working within us that remakes us. The amazing thing is that we can be transformed. Hate becomes love. Selfishness become generosity. Anxiety becomes trust.
Listen to the music below. Imagine yourself fully transformed into the image of God. What do you think your transformed self could look like? Where have you resisted this transformation to the image of God within you? What places of brokenness in your life might God be asking you to let go of to more fully embrace this image?
Write down your impressions and what God is asking of you during this season of repentance and reconciliation.