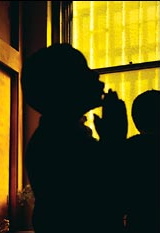 In Bread for the Journey: A Daybook of Wisdom and Faith, Henri Nouwen says: 
Discipline in the spiritual life is the concentrated effort to create the space and time where God can become our master and where we can respond to God's guidance. Thus, discipline is the creation of boundaries that keep time and space open for God – a time and place where God's gracious presence can be acknowledged and responded to.
Discipline has almost become a dirty word in our society. Boundaries and limits make us feel as though we can't breathe or that we have lost our freedom.
I well remember a friend of ours who spent several weeks in a monastery. He told me that before he went he thought that having to stop for prayer several times a day would be stifling. Instead he found it to be liberating. It took my focus away from work as the most important thing to God, he told me.
How often is our lack of discipline because our eyes are on something other than God?How often do we lack discipline because we want the freedom to do anything we like without being accountable to God or to anyone else around us?
Think about what Nouwen says. Rather than emphacizing the rigours of repetitive action that many of us struggle he focuses on the result – time & space for God. What spiritual disciplines have you avoided with the excuse that they are repetitive or ritualistic and yet in the process lost time and space with God? What is one discipline you could initiate that would help create necessary boundaries to protect your time with God?