This is the third post on preparing for Lent and our need to stir our creativity and imagination during the season. In some ways it is ironic that our Lenten series is entitled Stop Playing Games because really what we need to do is to start playing games, stirring our imaginations through unstructured times of fun and enjoyment towards God's work of restoration and reconciliation.
In Restoring the Wellsprings: A Lenten Retreat into Creative Practice, the authors suggest taking an "artist date" each week in Lent.
Once a week, it's your job to take yourself out to have fun for an hour or two. Do it alone, and choose something that you might not normally allow yourself: an excursion to a gallery to look at art; a trip to a fabric store; a walk in a public garden you love, or have always wanted to visit; a ferry ride to explore the Island. This should be gratuitous and self-indulgent. In short, you are to give up self-denial for Lent.
I think this idea is spot on. The place to start if we really want to join God's creative work of restoration is not with more disciplines or with more denial but with more time for fun and creativity.
Each moment is pregnant with new possibilities waiting to be born, alive with new beginnings, God's secrets not yet heard, God's dreams not yet fulfilled. These were the thoughts that lodged in my mind as I meditated on Isaiah 48:6-8 this morning. So many good Christian people I talk to are afraid that their prayer life will become stale, their spiritual disciplines empty rituals. Some make this an excuse for their lack of discipline in prayer and their lack of adherence to regular spiritual practices. Spiritual practices will become stale and meaningless if we don't know how to stir our imaginations and awaken our creativity to new thoughts, new patterns and new possibilities.
Tools for prayer are creative opportunities not formulae for success.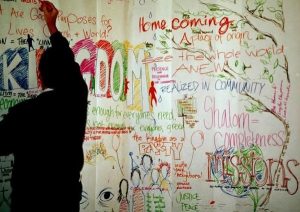 In her article 18 Things Highly Creative People Do Differently, Carolyn Gregoire shares some interesting insights on how to stir our creativity, but there are also a number of spiritual tools I have found helpful that you might like to consider as Lenten practices. Most of these tools have stimulated my own creativity in times of dry spiritual struggling. They are processes I have used to recreate my own spiritual disciplines so that I can move closer to God and the world in which I live as well as grow my understanding of who God intends me to be.
1.  Lectio divina is a particularly fertile ground for imagination and creativity especially when combined with creative acts like drawing, writing and visualization.
2. Visio divina, or divine seeing, is another practice that makes a particularly good creative practice.
3. Doodling is another fun and creative tool – it may not sound very spiritual but it can be made into a powerful spiritual discipline, especially if we doodle with our non-dominant hand. I suggest that before you doodle you ask yourself a question like "how could God use me as an instrument of reconciliation during Lent?" Prayerfully close your eyes and doodle with your non-dominant hand for about 30 seconds. Open your eyes and reflect on the image. Repeat your question and ask God to speak to you. Add to the image with coloured pencils or crayons, allow God to shape it into a meaningful shape. Pause after a minute or so from colouring and ask the question again. Write down what you sense God is saying. Keep the image on your desk or in your journal and continue to add to it over the next few days or weeks.
4. Use a finger labyrinth. Again this is a great practice to do with your non-dominant hand with a very specific question to ask of God as you trace the path.
These are not the only tools that stir my imagination and awaken my creativity – walking in the garden, turning the compost, listening to music, taking photographs and even as I have shared in a previous post – meditating on rocks are all tools that can stir me to new creativity. So here are a few more suggestions.
Be ready for change. Our lives are like drops of water in a rapidly flowing river. Everything around us is constantly changing. Yet under all of flowing water there is bedrock – the unchangeable presence of God that anchors us and keeps us secure no matter how much everything else changes.
Live a life of curiosity. Treat everything around you as though it has a newness and a freshness to it. No matter how many times we have looked at something or someone, before we always need to be alert to the newness that Christ brings to each mundane moment and encounter.
Always be interested in big things. Even when life seems small and restricted because of illness, disappointment or struggle, we can keep our world big by the way that we approach the situations we face. We can focus on the restrictions or we can look beyond them to the new things that God would have us discover.
Be happy in the small thing. Our expectations are often unrealistic and can be ungodly. By focusing on our own ideas of what should happen we often put the Holy Spirit in a box that restricts what God is able to do. Our senses that make us aware of the fragrance of a rose and the sound or a waterfall are in some ways small and insignificant but it is often through them that we are made aware of the intimate presence of God. It is often our senses that make it possible for us to move beyond our disappointments and the sadness and pain of life.
And if after all of this you are still looking for resources for Lent – check out this expanded and updated list of Lenten resources.  
A Series on Lent and Creativity
Godspace Resources: