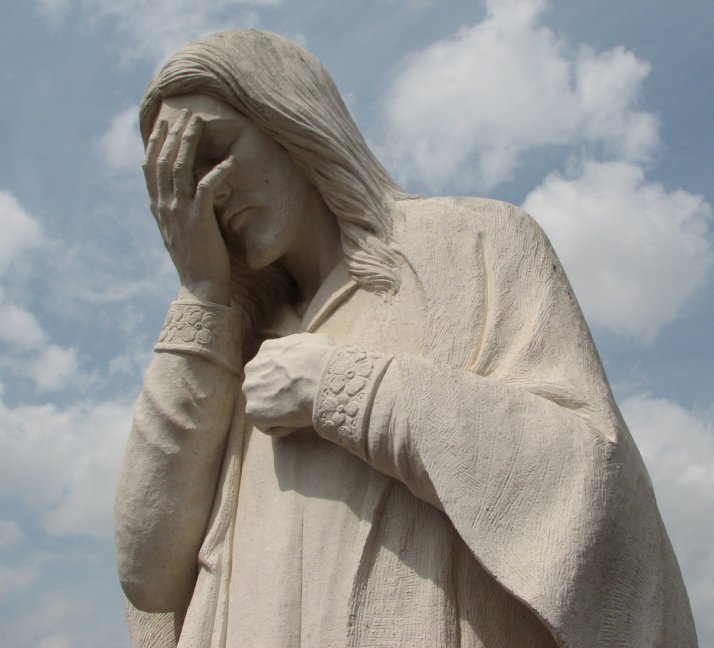 Over the last few day I have spent time meditating on my images of Jesus and trying to reconcile these with the paintings, sculptures and icons I have seen. I am also trying to reconcile them with the images of God that we as Christ followers present to the world. So many of them look as though Jesus has had cosmetic surgery done. Beautiful wrinkle free faces that look as though Jesus does not have a care in the world. It's no wonder we buy into the promise of health and wealth and wellbeing.
I went looking for other images on the internet and came across lots about statues and icons that weep, but few paintings that really depict the agony of Christ and the scars of a God who loves and suffers with us.
Today I find myself imagining Jesus with tears channelling down his face. I can see the scars in hands and feet from the nails of the cross. I can see the wrinkles etched by pain and sorrow and the heartache of being rejected and spat upon.
Then I think Where do I see these images of Jesus in our world today? Perhaps in the homeless who are finding it increasingly difficult to live on the streets. Many of them have experienced violence and animosity just because of the way they live. Like Jesus "they have no place to lay their head."Matthew 8:20 Or perhaps we see these images in victims of domestic abuse. They too are spat upon, their bones broken as Jesus' were upon the cross.
I don't think we realize how much our images of Jesus are shaped by the cultures in which we live. My question for you today therefore is: What are your images of Jesus? Perhaps this poem I am an African by African theologian Gabriel M. Setiloane will help. 
"Tell us further, you African:
what of Jesus, the Christ,
Born in Bethlehem: Son of Man and Son of God
Do you believe in him?"
And the answer is:
"For ages He eluded us, this Jesus of Bethlehem, Son of Man;
Going first to Asia and to Europe, and the western sphere . . . .
"Later on, He came, this Son of man;
Like a child delayed He came to us.
The White Man brought Him.
He was pale, and not the Sunburnt Son of the Desert.
As a child He came.
"A wee little babe wrapped in swaddling clothes.
Ah, if only He had been like little Moses, lying
Sun-scorched on the banks of the River of God
We would have recognized Him.
He eludes us still, this Jesus, Son of Man.
His words: Ah, they taste so good
as sweet and refreshing as the sap of the palm raised and nourished on African soil,
The Truths of his words are for all men, for all time.
"And yet for us it is when He is on the cross,
This Jesus of Nazareth, with holed hands
and open side, like a beast at a sacrifice;
When He is stripped naked like us,
Browned and sweating water and blood in the heat of the sun,
Yet silent,
That we cannot resist Him.
"How like us He is, this Jesus of Nazareth,
Beaten, tortured, imprisoned, spat upon, truncheoned,
Denied by His own, and chased like a thief in the night,
Despised , and rejected like a dog that has fleas,
for NO REASON.
"No reason, but that He was Son of his Father,
OR . . . Was there a reason?
There was indeed . . .
As in that sheep or goat we offer in sacrifice,
Quiet and uncomplaining.
Its blood falling to the ground to cleanse it, as us:
And making peace between us and our fathers long passed away.
He is that LAMB!
His blood cleanses,
not only us,
not only the clan,
not only the tribe,
But all, all MANKIND:
Black and White and Brown and Red,
All Mankind!
"HO! . . . Jesus, Lord, Son of Man and Son of God,
Make peace with your blood and sweat and suffering,
With God, UVELINGQAKI, UNKULUNKULU,
For the sins of Mankind, our fathers and us,
That standing in the same Sonship with all mankind and you,
Together with you, we can pray to Him above:
FATHER FORGIVE."