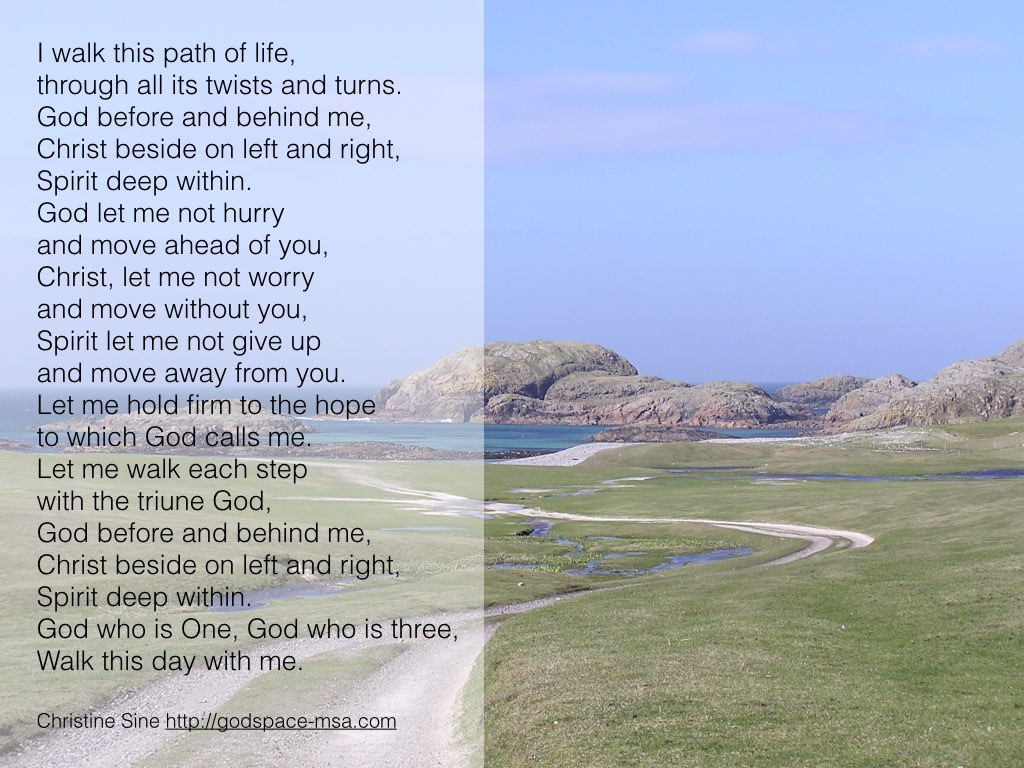 Find a comfortable place in which to sit. Cut out as many distractions as possible. Focus on your breathing. Take a deep slow breath in from the depths of your abdomen and hold it for a moment. Then breathe out slowly. Relax your body and your mind.
Read the prayer above imagining the presence of God surrounding you. Read it again and visualize Christ walking beside you as a friend, guiding and comforting you.
What is Your Response? 
How aware are you of the surrounding presence of God? How do you respond to the idea of God as companion and friend?
The photos above were taken on the island of Iona off the West Coast of Scotland, where Columba established a monastery in the 6th century. My husband I are very attracted to this stream of Christianity which believed that all things were under the lordship of Christ, and all aspects of life were ways to share in God's purposes.
Belief that the One who called them to conduct the affairs of the kingdom was actually with them and enfolding them as Father, Son and Spirit kept them from dividing life into sacred and secular realms. Spiritual and material, heaven and earth were seen as so interpenetrating that Celts embraced a unique sense of time. Eternity was always present in some way and invited people's awareness, gratitude and praise. Time itself was seen as God's creation and gift, so that ordinary moments could share in the rhythms of God's reign (Drinking from the Wells of New Creation, Kerry Dearborn, 126)
What Is Your Response?
Read through this quote several times. What glimpses of God's eternal world have you caught sight of today? Sit quietly in the presence of that gift. Offer prayers of gratitude and praise to God. Write down your response.
Finish your time of reflection by watching this following Celtic blessing by John O'Donohue.