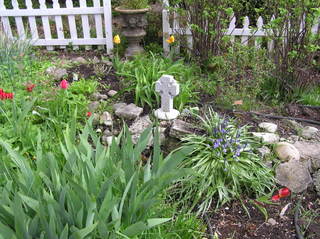 This week is garden planning week. Thursday evening a group of people will gather at the house to discuss our vegetable garden at the Mustard Seed House for the next year. It is a fun time but one that always gives me itchy fingers to get outside and enjoy God's creation.
It is not only those of Christian faith who find a closeness to the divine presence through gardening. I have been updating some of my garden resources that I will post in the next few days and in the process came across some great resources from Jewish, Muslim and Buddhist traditions that I want to share with you.
Muslims Practicing Their Faith
Zaid and Haifa Kurdieh are organic farmers in Upstate New York have worked to create a community supported by their farm and other small businesses. They sell produce at farmers' markets and also run a CSA from their farm. Their Muslim faith and Islamic laws guide food production and consumption as an article in Gastronomica explains:
The Qur'an categorically divides human action into acts that are either permissible (halal) or forbidden (haram), with some gray areas in between. At its most basic level, Islam decrees that all foods are permitted for human consumption except for those identified by the Qur'an as haram—namely, pork products, alcohol, illicit drugs, flowing (excess) or congealed blood, carnivorous animals with fangs, birds of prey, and the meat of animals and birds that have not been ritually slaughtered. The Kurdiehs believe that these tenets also encourage responsible steward-ship of the land and animals. Their farming techniques, carried out with considerable effort and soul-searching, are a logical extension of these precepts.
There is an additional, more-complicated Islamic principle that many the Kurdiehs and many devoted Muslims strive to follow. It is called tayyib, a word that translates as "good" or "pure."
In order for a particular food to be considered tayyib, it must be created in a wholesome manner. Although the concept of tayyib far predates the emergence of industrialized agriculture and factory farms, it is clearly relevant to the present realities of the mainstream American food industry. According to Zaid, produce that has been sprayed with pesticides, for example, or harvested by poorly paid migrant workers, would not be tayyib. Neither would fast-food cheeseburgers or sodas filled with high-fructose corn syrup and preservatives.
Muslims in sub-Saharan Africa, who farm some of the least fertile land on the continent, have developed a training manual The Islamic Farming toolkit, to encourage more sustainable farming practices among millions of African Muslims facing a threat to their food security from climate change. It is well worth reading.
Jews Practicing Their Faith
The Jewish Community Gardening Collective is a project of the Farm at Pearlstone aimed at brining together and facilitating the creation of Jewish community gardens around Baltimore. They have published a very helpful guide, Jewish Gardening Resource Manual, which explains:
Gardening is a distinctly Jewish act. The echoes of God's command to Adam (Gen. 2:15) "l'shomrah u'lovdah" (to guard/till and work/tend) resound through the generations as a call to remember that adam is inextricably linked to adamah. As Jews, we strive to cultivate an awareness and ultimately a practice that recognizes that "the land is God's; [we are but] strangers and sojourners with God" (Leviticus 25:23). Through gardening, we learn to care for God's planet, to recognize that Creation is a gift to be blessed and shared. Our tradition provides ritual, blessings, liturgy, holidays, and mitzvoth that connect us with the sacred rhythms of Creation and its Author.

Jewish community gardening is the marriage of the universal and unique aspects of tending a piece of land. A garden is a gathering- place, a home for community-building, and an expression of our deepest values. A Jewish community garden is a hands-on classroom to teach about Judaism's relationship to Creation. The education may consist of lessons on tzedakah, brachot, t'filah, bal tashchit, or the agricultural roots of the Hebrew calendar. A Jewish community garden is a laboratory, an experimental, experiential test- ing ground for Jewish engagement, identity building, and relationship forming. Reach out to your neighbor, your students, your family, and dig deeply, for surely you will uncover hidden treasures.
I also recently came across this Jewish Children's Garden Curriculum developed by the staff of Shalom Children's Center at the Asheville Jewish Community Center. The authors explain:
For young children, the very hands-on activity of gardening is one way to make the quite abstract concepts of the Torah, holidays, and the calendar come alive. Showing them a sheaf of wheat or an etrog, or even growing these in your school garden, will tangibly connect them to Passover and Sukkot.
The curriculum is rich with ideas and projects for children of all faith traditions.
There are a number of Jewish communities that across the United States that grow gardens. A few examples include:
Ekar: Community Urban Farm and Garden in Denver Colorado.
The Jewish Farm School

which teaches about contemporary food and environmental issues through innovative trainings and skill-based Jewish agricultural education.

Eden Village Camp

in New York State, is a living model of a thriving, inspired, sustainable Jewish community, grounded in social responsibility and vibrant spiritual life.
Buddhists and Gardening
The first book I read on spirituality and gardening that inspired me was Gardening at Dragon's Gate by Wendy Johnson, who has meditated and gardened for more than 30 years at the Green Gulch Farm Zen Center, located near Muir Beach, California. In addition to its Zen training program, the center also manages an organic farm and gardens. Formal Zen meditation and training is the foundation of community life at Green Gulch Farm, and is an integral part of the Farm and Garden Apprenticeship Programs.
Wendy Johnson explains:
In some many ways meditation practice is like gardening. Very garden comes alive in the mind of the gardener. By investigating your land, and the plants you love and know so well in your garden, you come to know the heart and mind of your place, and your own heart and mind as well. When you select your favourite tools and begin to shape the ground, in this digging and cultivating, the garden shapes you. Eventually, you free your heart and mind from what you think you know and prefer, and in this work you also free the true heart and mind of your garden. (63)
This video on how to create a Zen style meditation garden is also very interesting, not just for an insight into Zen gardens but for any of us who love creating meditation spaces in our gardens.
If you are interested in being a part of the Mustard Seed House garden team here in Seattle over the coming year – with an opportunity to learn more about gardening organically, a chance to share the produce and enjoy good fellowship with other gardeners, please let me know.