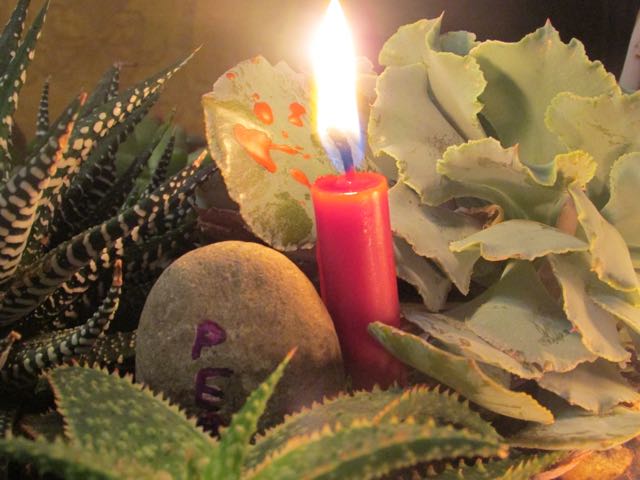 This is photo is of the peace candle in my Advent garden. The full word peace is obscured, the leaf behind is splattered with red wax – a little like blood. I could not help but think of that this morning as I read about the terrorist attacks in France and grieved with the victims and their families.
As the Christmas season, the season of "peace on earth" ends, we are very aware that the peace we long for in the coming of Christ is not fully realized in any part of our world. Hopefully that does not stop us longing for it, and working towards it.
Like so many of us I enter the day with a heavy heart for the victims of violence and the fear it leaves behind.
This first prayer was written by my friend John Birch as he thought of Paris but was aware too aware that in Syria, Iraq, Nigeria and other countries such deaths are all too frequent.
Loving God, we pray
for those whose lives
have been cut short
by acts of violence
fuelled by hatred
or religious zeal,
and the individuals
who perpetrate
such horrific acts.
May those who mourn
for loved ones lost
feel the warmth
of your compassion,
and those who rejoice
at such loss of life
meet face to face
the one true God
and understand
the difference
that love can make.
©John Birch, faithandworship.com
—————————————–
The second prayer here is one that I wrote this morning as I thought about the terrorist attacks in France and all the other places of the world that face continual turmoil and unrest. I am very aware of the inadequacy of our words and of the mixture of grief, fear and anxiety that events like this instill in us. Resting in the presence of God, and allowing God's love to flow through us to those who are victims of these situations is often the best that we can do.
God who weeps, God who mourns, God who comforts,
Weep in us, mourn with us, comfort through us.
God who lives, God who cares, God who loves,
Live in us, care with us, love through us.
God who heals, God who transforms, God who brings peace,
Heal in us, transform with us, bring peace through us,
make all things new through us.
Let all you have created be made new,
In us, with us, through us.