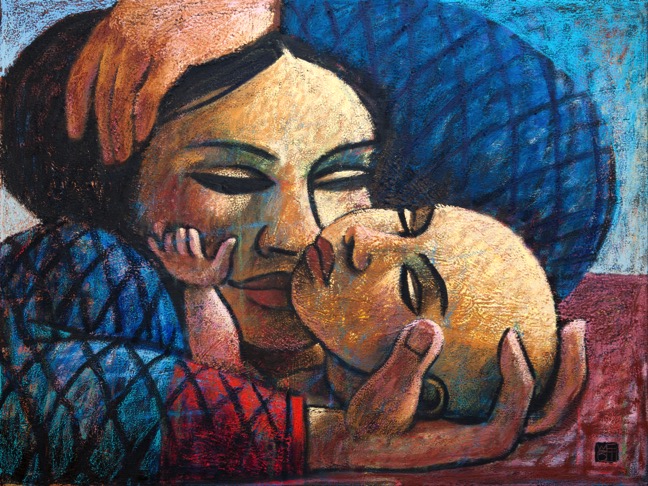 "I am the Lord's servant…may it be to me as you have said."-Luke 1:38
It's Advent again. Which means that my thoughts are turning to Mary again.
Mary. A woman who was highly favored, who pondered things in her heart, who was responsive to the Divine invitation before her. A woman who was willing to open all of herself- even the very cells of her body, her most intimate parts- to God.
Whoa.
This kind of opening is radical. It is risky. This kind of opening risks it all- one's life plans, one's relationships, one's reputation, one's physical well-being, one's very life- for God.
[I mean, seriously?! Opening the very cells of one's body to receive the God-fetus? Talk about vulnerable!]
This kind of opening requires so much trust and faith that the God of Jesus is indeed the God of Love and Life, whose invitation leads to salvation and great joy.
Mary clearly thought that this opening, this Inbreaking reality, was deeply good news that led her to heart-expanding praise. Salvation has come! The hungry will be filled! There will be justice and peace on earth!
Mary's Magnificat response reveals her entrance into this joy:
"My soul glorifies the Lord and my spirit rejoices in God my Savior, for he has been mindful of the humble state of his servant. From now on all generations will call me blessed, for the Mighty One has done great things for me– holy is his name…" (Luke 1:46-49)
For Mary, opening herself to the Inbreaking reality led her to ecstatic, joy-filled worship as she encountered the salvation of God.
This opening to salvation, however, also led Mary into dark, difficult places. I think of the blessing and the prophetic word that Simeon spoke to Mary when he said of her boy, "This child is destined to cause the falling and rising of many in Israel, and to be a sign that will be spoken against, so that the thoughts of many hearts will be revealed. And a sword will pierce your own soul, too"  (Luke 2: 34-35).
Mary didn't just open herself to receiving in her son the Savior of the World; she also opened herself to receiving the one who would become the Suffering Servant. And his suffering (all the way up to his murder) inevitably became her suffering. And the suffering of her neighbors- the mothers of innocent children who were slaughtered because her child posed a threat to the powers who felt threatened by Jesus- inevitably became her suffering, too. "A sword will pierce your own soul, too."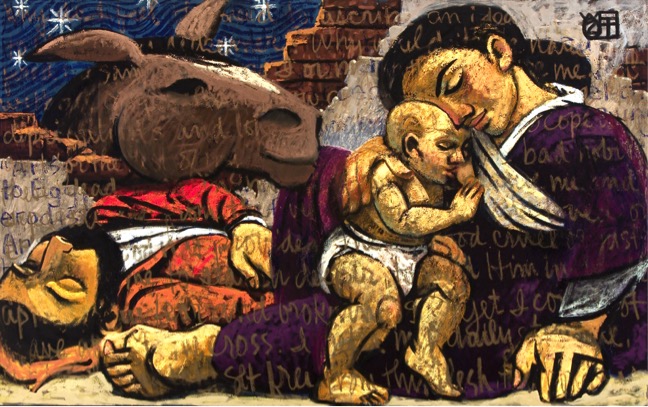 Mary teaches me that opening oneself to God means opening oneself to all of it- to the deep, abiding, ecstastic joy and peace that comes through encounter with the liberating Word–the proclamation that salvation is coming to all people–and also to the soul-piercing pain that one feels when one encounters the depths of one's own suffering and the sufferings of others. It means opening oneself to the Love that also reveals injustice and evil for what it is.
It hurts that in this time of Advent expectancy there are millions of black boys and men who are locked away for the entirety of their earthly lives with no hope of ever getting out. It hurts that there are millions of people in this country who will go to bed hungry tonight. It hurts that there are children in the Middle East who are being struck down with drones at the hands of the US military.
It hurts that there is not peace on earth. (How can one even pretend to proclaim that, in light of Ferguson, of Marysville, of Syria…?)
It makes me wonder how God can bear it, how God can continue to keep God's heart open to loving this world.
Because everything in me wants to close up, close off, protect myself from facing suffering because it hurts so much. And it hurts that I even have the privilege that affords me a choice about whether to engage the pain or not just because I have white skin and a support system with enough money that I don't need to worry about where my next meal will come from.
I sometimes feel powerless against the onslaught of pain that comes when I keep my heart open to love.
So, why did Mary do it? Why did she open up the cells of her body for God to take up residence and then to come forth into this pain-full world to die? Why did she open up her heart to love and raise this child, knowing from the beginning that she couldn't protect him from the powers that would speak against him, that would eventually shed his blood)?
"This child is destined to cause the falling and rising of many in Israel, and to be a sign that will be spoken against, so that the thoughts of many hearts will be revealed."  Is this the purpose of the soul-piercing: that disorientation, disillusionment, and the realization that things are not as they should be are necessary so that the knowledge of salvation can be realized? Is this soul-piercing a prerequisite for liberation and deliverance? Is it necessary to be pierced so that we can be emptied in order to be filled? Does this soul-piercing serve to bring us the knowledge of salvation?
This soul-piercing reveals to me not only the immensity of pain, suffering, and sin in the world, but also my own pain, suffering, and sin. It reveals the ugliness and sin that prompts me to turn away from the pain of my brothers and sisters, grasping for things that would keep me "safe" and "comfortable" while leaving others to fend for themselves. It shows me that I am not only capable of inflicting suffering on myself and others, but that I do. And that I, along with this world, am in desperate need of a Savior.
It hurts to be pierced to the core. But the piercing is what enables me to experience the deep, abiding joy and peace that comes from encounter with God's Love. And oh, how worth it the soul-piercing is for the experience of encountering the deep peace and joy of God that is born of Love!
Mary's choice to receive her Savior-Son shows me that encounter with God necessarily means that one will experience the soul-piercing sorrow and the heart-burning joy, and that you can't have one without the other. That to experience the heart-burning consolation of encounter with the Risen Christ, one must experience the soul-piercing pain of Golgotha. And perhaps the extent to which we enter into the joy that Love has made a home with us is what enables us to continue to enter into the pain.
I am comforted that the Living Word- the One Whose Spirit pierces my very heart–knows what it means to be pierced, too. And that he knows what it is to be raised. The fullness of sorrow and pain.
In both Jesus and Mary, I hear the invitation to open myself to Love and to receive and enter into experience the other. Like mother, like son. Like Son, like mother.
For me, opening myself to Love this Advent means entering into joy that salvation has come. It means proclaiming the coming of Immanuel, insisting that God is in fact with this world despite evidence to the contrary. It also means considering how I am being called to enter into true com-passion by being with my brothers and sisters in their joy and pain. It means asking God to fill me with God's love, that I might live as an embodiment of that Love in this world.
What are you being invited to this Advent?
May we all, like Mary, ponder this question in our hearts and open ourselves to respond to the invitation God places before us.
Kari Rauh is a spiritual pilgrim on the journey with Jesus who lives and works as a massage and craniosacral practitioner in Seattle, WA. She encounters the Divine in authentic conversations around the dinner table, giving and receiving hugs, watching birds, and eating Thai food."