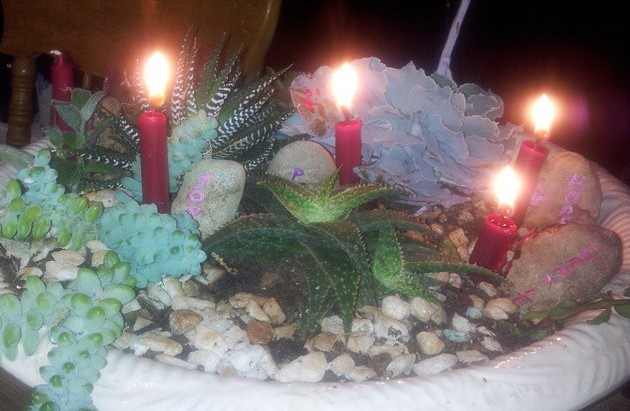 Yesterday I lit the joy candle in my Advent garden an exhilarating moment that marks the halfway point in our journey toward the coming of Jesus. The scriptures we read at church were all about joy and rejoicing. I will greatly rejoice in the LORD, my whole being will exult in my God, we read in Isaiah 61; Rejoice always says Paul in 1 Thessalonians 5:16; Those who sowed with tears will reap with songs of joy; sings the psalmist in Psalm 126.
What is this joy toward which the season now beckons us? Sometimes I think we confuse joy and rejoicing with happiness. Joy is not a warm fuzzy feel good sensation. It is a rejoicing in the fact that all that was broken by sin, all that is used to oppose God and lifted up against God has been judged. But God's fearsome judgement which shakes the earth in order to root out evil, is not a judgement of destruction but of redemption and transformation.
In his important new book A New Heaven and A New Earth; Reclaiming Biblical Eschatology, Richard Middleton tells us:
Judgement for the sake of redemption is the consistent pattern of Scripture. Thus the scattering of Babel and confusion of languages allowed a fresh beginning for humanity, without imperial oppression. At the flood, the violence of the world was subjected to radical cleansing so that Noah and his family could start over. The Babylonian exile, likewise, served to dismantle Israel's idolatry and injustice in order to permit a new beginning for God's people, on different footing. The biblical patter is that God smites and heals. (125)
He goes on to say:
God's ultimate purpose is to accomplish his original intent for the flourishing of humanity (Israel and the nations) and the nonhuman world. (126)
In the life, death and resurrection of Christ, this ultimate purpose of God, the flourishing of God's creation is accomplished
Originally Advent did not celebrate the birth of Christ but rather the birth of God's new world in which death and sin are no more. The entire creation rejoices because through God's judgement, it is liberated from the burden of human sin and evil. Listen to how the psalmist expresses this in Psalm 96:11-13 NLT
Let the heavens be glad, and the earth rejoice!
    Let the sea and everything in it shout his praise!
12 Let the fields and their crops burst out with joy!
    Let the trees of the forest sing for joy
13 before the Lord, for he is coming!
    He is coming to judge the earth.
He will judge the world with justice,
    and the nations with his truth. 
All humanity are invited to rejoice with creation as we participate in this transformation. As we stand around the manger together we are invited to break down barriers that oppress and imprison. We are invited to give our lives to heal those who suffer, to feed those who hunger and to share with those who lack provision.
That is indeed cause for joy and rejoicing.
So as you walk through this third week of Advent what will you do that will bring rejoicing and flourishing to God's world?