Yesterday I was sent this link to an article about stores that benefit non-profits. My first thought was – not many Christian organizations there. Then I started thinking about the many I know that do benefit non-profits  and realized it was time for another Christmas list. For those of us that love Christmas, buying to support our favourite organizations is one way to go. I am not going to list the many wonderful organizations that run thrift stores or provide gift catalogues for you to buy goats, bees, land or other items to help people in impoverished communities. That would make another whole list. These are organizations that actually sell what is produced by their members to provide for their living expenses or for artisans in impoverished communities.
Here is a small sampling. Of course the first that comes to mind is Ten Thousand Villages. We are fortunate that there is a Ten Thousand Villages store just down the street from us. But they also have a great online store. Ten Thousand Villages is an exceptional source for unique handmade gifts, jewelry, home decor, art and sculpture, textiles, serveware and personal accessories representing the diverse cultures of artisans in Asia, Africa, Latin America and the Middle East. One of the world's largest fair trade organizations and a founding member of the World Fair Trade Organization (WFTO), the company strives to improve the livelihood of tens of thousands of disadvantaged artisans in 38 countries.
We buy our coffee from Camano Island Coffee all year round but love to give it as gifts at this time of the year.CICR partners with Agros International, a Seattle, WA based non-profit that assists responsible coffee farmers in purchasing their own land through low-interest or interest-free loans.
Thistle Farms is the social enterprise that is run by the women of Magdalene, a residential program for women who have survived lives of prostitution, trafficking, addiction and life on the streets. By hand, the women create natural bath and body products that are as good for the earth as they are for the body. Purchases of Thistle Farms products directly benefit the women by whom they were made.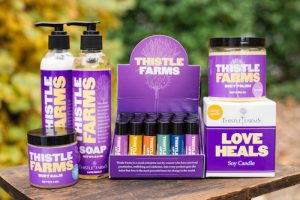 St. John's The Forerunner Orthodox Monastery  supports itself solely by the handiwork of the sisters and donations. The 20 nuns and novices practice the traditional arts of the Orthodox church including: writing Byzantine icons, knotting prayer ropes, making incense, and dipping beeswax candles. They also mount icon prints and make natural soap and lotion and bake traditional Greek food and pastries for their bakery and gift shop. Visit their online store here.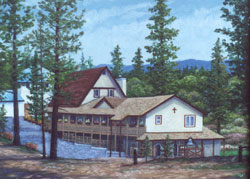 Homeboy Industries in Los Angeles provides job training positions and free social services for formerly gang involved and previously incarcerated men and women. They produce baked goods, clothing, office supplies and bags from their online store. The ministry has become well known through the work of Father Greg Boyle and his book Tattoos of the Heart. 
And don't forget Mustard Seed Associates. our goal is to provide for for our staff through sale of books, cards and videos and the provision of online courses as well as honoraria for speaking. When you purchase through our store you help support the ministry.
So what organizations do you support through online buying. Let us know your favourite online stores.