CHECK OUT THE LATEST/UPDATED POST: HERE
The post below is out of date.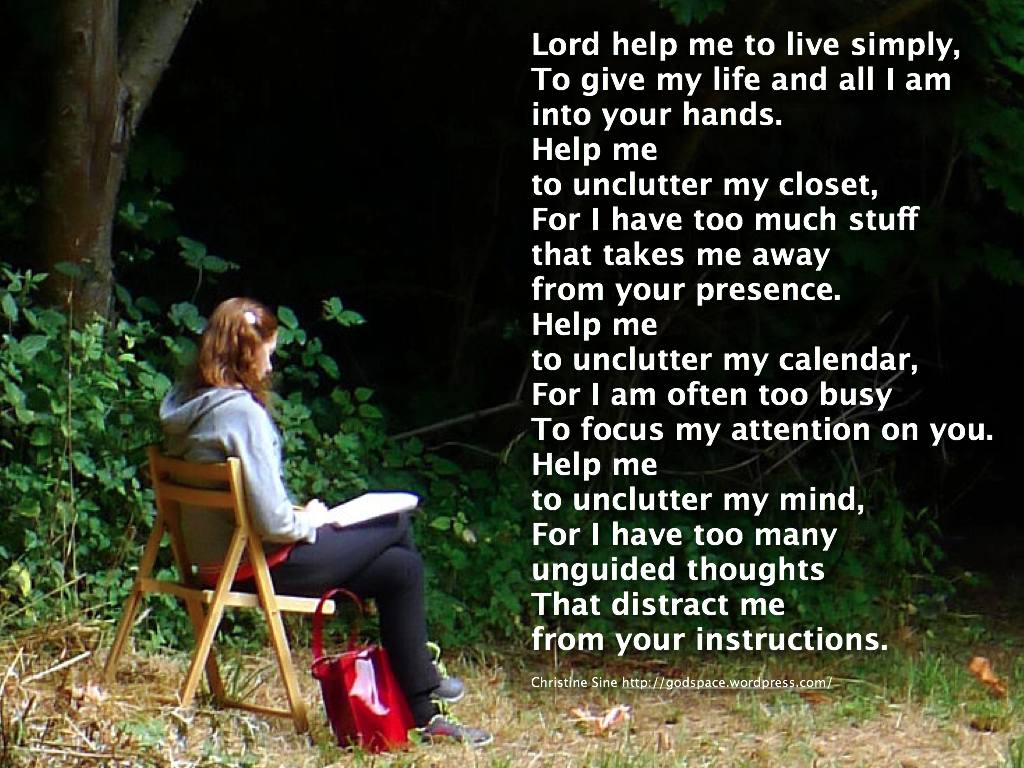 I wrote this prayer last year when starting to prepare for Advent and the Christmas season. Christmas is a season when all of us spend too much, eat too much and hurry too much. All of us need help in focusing on what really matters at this season. The strident messages of the consumer culture bombard us at every turn and it is hard to say no.
Now is the time to think about ways to simplify the season. In my post, What if the Goal of Our Economy Wasn't More But Better, I suggested watching The Story of Solutions video from thestoryofstuff.com and gave suggestions on how to help kids give back at Christmas. (Sorry I doubled up with many of these in a more recent post). Now prayerfully consider ways that you could simplify Christmas this year and cut back on consumption.
Read the prayer above through several times and then reflect on this quote: 
Simplicity is no great virtue unless wedded to right priorities. A desirable simplicity entails the recognition of what is important in life, coupled with the strength of will to structure one's daily existence around that recognition. It requires minimizing the impact of one's life of unimportant things, an extremely difficult task in an acquisitive and schedule-filled culture. Daniel Taylor In Search of Sacred Places(148)
What comes to mind. Write down what you feel God is saying about your need to simplify? 
Now read through this passage from Mathew 6:25-33 here quoted from The Message.
If you decide for God, living a life of God-worship, it follows that you don't fuss about what's on the table at mealtimes or whether the clothes in your closet are in fashion. There is far more to your life than the food you put in your stomach, more to your outer appearance than the clothes you hang on your body. Look at the birds, free and unfettered, not tied down to a job description, careless in the care of God. And you count far more to him than birds.

"Has anyone by fussing in front of the mirror ever gotten taller by so much as an inch? All this time and money wasted on fashion—do you think it makes that much difference? Instead of looking at the fashions, walk out into the fields and look at the wildflowers. They never primp or shop, but have you ever seen color and design quite like it? The ten best-dressed men and women in the country look shabby alongside them.

 "If God gives such attention to the appearance of wildflowers—most of which are never even seen—don't you think he'll attend to you, take pride in you, do his best for you? What I'm trying to do here is to get you to relax, to not be so preoccupied with getting, so you can respond to God's giving. People who don't know God and the way he works fuss over these things, but you know both God and how he works. Steep your life in God-reality, God-initiative, God-provisions. Don't worry about missing out. You'll find all your everyday human concerns will be met.
What comes to mind as you read this passage? What else do you need to do to simplify this Christmas?
Now listen to this song and allow God to speak to you
Here are a couple of resources to explore to help:
Simple Living Works is a great resource for simplifying our lives not just at Christmas but all the year. I particularly recommend listening to some of their Whose Birthday Is It Anyway? podcasts.
Christmas Gifts that Won't Break provides weekly Advent reading, looks at spiritual gifts that bring hope, peace, joy, and love to family, community, and world and challenges people to rethink the gifts they ask for and give during the Advent and Christmas seasons.
Truceteachers.org has an excellent guide with ideas for toy buying during the Christmas season.  Some of their suggestions are be thoughtful, plan a family experience together like going for a hike, a bike ride, or helping out a neighbor and be creative.
And some ideas for families and kids from The Overflow Project on how to simplify their toys. Believe it or not kids enjoy gifts their family or friends have made far more than expensive store bought ones.
Only give gifts of home made toys and or crafts
Give toys away at Christmas rather than accumulating more.
○ Host a toy exchange with friends.
Think About Going Green
How about a living Christmas tree this year? . We have used a living tree for many years and most nurseries have them available in many different sizes. You may want to plant the tree out when you are finished with or, like us put it outside still in the pot to keep growing until next year. Trees like this often survive for many years as long as you do not bring them inside.
Also some ideas for thinking about sustainability at Christmas time:  How To Have A Green Christmas, I love some of their suggestions like a battery free Christmas, connecting to nature and alternatives to gift wrapping. They also have some excellent suggestions on sustainable giving that will probably be added to my master list next year. 
And let me know – how are you simplifying this Christmas?