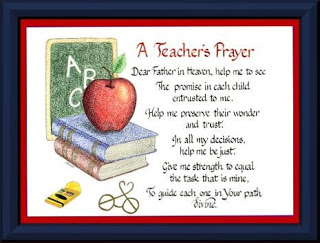 Here in the Northern hemisphere summer is coming to a close and students are getting ready to go back to school. There are some great prayers and liturgies out there to help prepare our hearts and minds for the coming season. The list below is gathered from a variety of faith perspectives and different countries. If there are other resources you think should be added please let me know.
This Back to School Prayers from Concord Pastor is a great collection of prayers for students, teachers and parents.
I love this Back to School Liturgy which can be downloaded in pdf form. It focuses on new beginnings while acknowledging the challenges of fears and frustrations.
Prayer Resource For Schools contains some beautiful prayers for starting the year including the one at the top of this post.
Some inspirational prayers from Pray for Schools
From We Are That Family
And from beliefnet.com – good set of slides with a back to school prayer – very annoying adds included though.
From Australia: prayers for use by teachers – Lasallian Education Service 
From Ireland: Opening of School Year Mass.doc – SchoolEthos.ie
And another from Ireland: The Diocese of Kerry in Ireland has some great prayers that you can download in both text and powerpoint form, including this one:
A Prayer at the Beginning of the School Year
What will this year bring? We do not know; It will bring its usual times of work and play, experiences of success and failure, all the things that are part of school life.
It is a new beginning; the planting of a seed that will grow for a year, the seed of fruit that will blossom in times to come. It is a new hope; hope for good work, for successful results, for friendship, for fun, for learning. In this coming year, may there be learning, prayer and fun. May there be hard work, faith and friendship. May no one in this school be lonely; may no one be left out in class; may no one suffer through the others here.
As we begin this year in hope, in prayer and in friendship, may the Lord begin it with us, be with us during it, and successfully bring it to its conclusion.