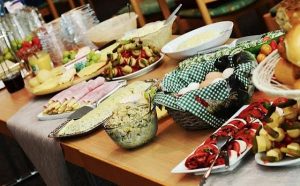 Today's post is another in the series Hospitality Opening Doorways to the Kingdom, which will once again be out them for a while. It is from April Yamasaki. April is a pastor, writer, and blogger. Her most recent books are Sacred Pauses: Spiritual Practices for Personal Renewal (Herald Press, 2013) and Ordinary Time with Jesus (CSS Publishing, 2014). She blogs on faith and writing at aprilyamasaki.com.
As a church, we've experimented with nurturing hospitality in a number of different ways:
from all-church potlucks to youth progressive dinners;
after-worship coffee times in summer and getting-to-know-you suppers hosted in homes;
ESL (English-as-a-second-language) garden parties and weekday morning Chai 'n' Chat.
One of our latest experiments is a monthly Guess Who's Coming to Sunday Lunch potluck. There's a core group of about fifteen of us who take responsibility to invite others, bring food, do set up, clean up, and  compost. We're intentional about being aware of newcomers and inviting them to join us, plus the worship leader for that Sunday offers a general invitation for any guests.
Not everyone in the core group is there every time, but we're often joined by others in the congregation who bring a dish to share. With our focus on newcomers, our Guess Who Lunch might be anywhere from 20 to 50 people–from babes-in-arms to seniors, both newcomers and hosts. We do it as a true potluck without coordinating who's bringing what ahead of time, but somehow there's always enough food, enough people to help clean up, wonderful conversation, the sharing of our lives as we share a meal together.
Since we have after-church coffee during the summer months, our next Guess Who Lunch won't be until fall, but I'm already looking forward to it!
Below is one of my favourite dishes to share. It works as a main dish or on the side, can be eaten hot or cold, it's both vegan and gluten-free, quick to put together and cooks up beautifully in the church kitchen while I'm preaching, can be served as is or with the extras listed at the end of the recipe. I pray it will spark some of you own ideas and hospitality.
Southwestern Beans and Corn
Put all the ingredients in a crock pot, stir well, cover and cook on high for 2-3 hours (low 7 to 8 hours).
4 cups cooked red kidney beans
2  cups frozen corn
1 can (14.5 ounces) diced tomatoes, undrained
1 green bell pepper (1-inch pieces)
2 tsp chili powder
½ tsp salt
½ tsp ground cumin
½  tsp pepper
¼ tsp garlic powder
Extras:
Additions to crock pot:
–        1 large onion and 1 clove garlic sautéed in 1 tbsp olive oil (instead of the garlic powder)
–        For extra kick:  1-2 jalapeno peppers, diced
Serve with:
–         black olives
–        sour cream or plain yogurt
–        tortilla chips or bread