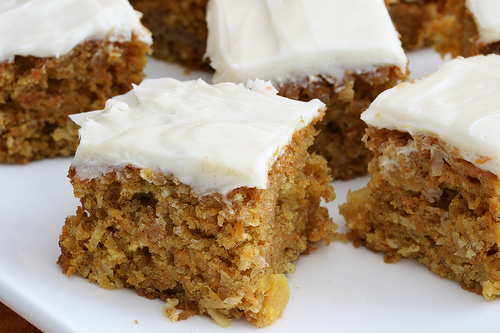 I made this carrot cake for a gathering over the weekend. It is the best I have ever tasted – even better the next day.It is definitely going to be a feature of our hospitality over the summer. Unlike many carrot cakes it is not too sweet. The honey gives it an out of this world flavour, it is healthy and does not have the oily taste that so many carrot cakes do. I adapted it from this Healthier Carrot Cake that I found at Natasha's kitchen. Try it and enjoy!
Ingredients for the Carrot Cake:
3 cups carrots, peeled and grated
2 cups whole wheat flour
1 tsp baking soda
1 1/2 tsp baking powder
2 tsp cinnamon
4 eggs at room temp
1 cup honey (preferably local & raw)
1/2 cup canola oil, safflower, or sunflower oil.
2 tsp vanilla
1 cup applesauce
1 cup walnuts or pecans – finely chopped (optional)
Ingredients for Cream Cheese Frosting
2 cups powdered (icing or confectioner's) sugar
16 oz cream cheese at room temp
8 oz butter softened
1 tbsp vanilla
To Decorate
1/2 to 3/4  cup walnuts or pecans finely chopped to sprinkle on top.
1/4 cup honey
I like to sprinkle the nuts over the top and drizzle the honey over the top whether I put frosting (icing) on the cake or not.
Cake:
Preheat oven to 350 F. Grease 9″x13″ dish (preferably glass) with butter or oil.
1. In a medium bowl sift together flour, baking soda baking powder and cinnamon. Add grated carrots and 1 cup of nuts and mix until they are coated evenly with flour.
2. In a large bowl beat eggs on high speed until foamy (about 1 minute) Add 1 cup honey and beat on high another 4 minutes. Blend in oil, vanilla and applesauce.
3. Fold the flour/carrot mix about 1 cup at a time and mix with a spatula until it is just incorporated into the batter.
4. Spread the batter evenly over the baking dish. If you are not planning to use frosting, sprinkle nuts over top and bake at 350 F for 40-45 minutes until a toothpick inserted in the centre comes out clean.
5. Let cake cool completely before adding frosting or drizzling remaining honey over the cake.
Cream Cheese Frosting:
Beat 8 oz softened butter with 2 cups powdered sugar on low speed until combined. (About 1 minute) then slowly increase to high and beat until the mixture is pale and fluffy.
Cut cream cheese into about 8 pieces and slowly add. Mix until combined. Once all of the cream cheese is incorporated mix for another minute. Add vanilla and mix until combined. Refrigerate frosting until ready to use. If it has been refrigerated for a long period allow to soften to make it easier to spread.