Two Big Announcements!
An Introduction to Celtic Spirituality – a new FREE resource from Mustard Seed Associates.
Celtic Prayer Retreat Early Bird Special extended to Sunday, July 6th.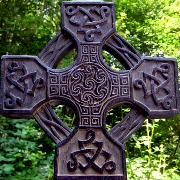 Together with Kari Rauh, I have worked hard to put together An Introduction to Celtic Spirituality which complements well our upcoming Celtic Prayer Retreat. This resource is filled with personal insights, prayers, litanies, a resource list and a bit about our Celtic dream for Mustard Seed Village where the retreat is held.
When you register for the retreat you are not only signing up to participate in the event, you're also helping us to transform this dream into a reality!
For those of you who have been with us before, you'll notice an amazing change already. Our first building is up and, though not yet completed, we'll be able to gather inside and enjoy the creative efforts of our architech, David Vandervort, and the work of many amazing volunteers – have you seen the slideshow of the progress yet?
The retreat is a whole day (or the weekend!) with times for common and private prayer and reflection, music led my Matt and Sundee Frazier, prayer trails, a labrynth, activities for both children and adults, liturgies from Christine Sine, a Eucharistic meal lead by Rev John Myers of St. Andrew's Episcopal Church in Seattle and, of course, a potluck lunch and BBQ dinner!