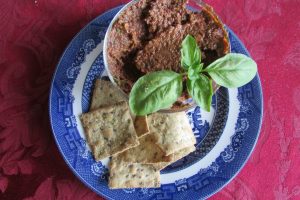 One of the aspects of hospitality that I am grappling with these days is how to make meals that are inviting for my gluten free friends. Bread and cheese have always been staples of lunches for us and the moment the basil is ready for harvest I am making pesto, but what can I make that is equally as appetizing but acceptable to my gluten free friends?
Dried Tomato, Olive Tapenade is one possibility. Even those that don't normally like olives love it.
I have adapted this recipe from one I found in the Australian Women's Weekly Tomato Cookbook.
1 cup drained sun-dried tomatoes
2 tablespoon olive oil
1 tablespoon red wine vinegar
2 cloves garlic
1 tablespoon chopped fresh oregano leaves
1/2 cup chopped fresh basil
1/2 teaspoon cracked black peppercorns
2/3 cup pecans
1 cup pitted kalamata olives
Process all ingredients until smooth. Spoon tapenade into cold sterilized jars; seal immediately or store in the refrigerator (stores 4-6 weeks).
What are your favourite gluten free recipes that you use for entertaining?