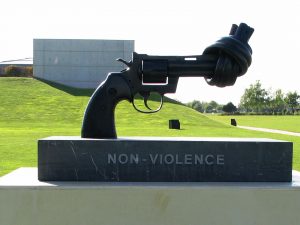 Yesterday there was another school shooting. This time right in my backyard. In fact I had been at Seattle Pacific University walking across the area where the shooting occurred, just a couple of hours before. One person died, three others injured, one still critical. It is probable that more would have been killed if were not for a student, John Meis, volunteer security guard sprayed the gunman with pepper spray and tackled him, with other students then jumping on top.
The horror of the senseless loss of life, the pain and agony of family, the trauma to those around hits my heart with great heaviness. When will this gun violence stop I wonder? When will we realize that there need to be restrictions on sales of guns?
Guns do not make a nation or a family safer. Quite the contrary according to this article published in the American Journal of Medicine last year. The U.S. has more guns and more gun deaths than any other country in the world.
One of my biggest struggles with living in the U.S. has been the acceptance of violence as a way of life – even amongst Christians. And maybe we will not see a change in the gun laws here until Christians change their attitudes. We are not called to violence we are called to peace. The images of God's kingdom are of a peaceable kingdom in which there will be no death or violence or war.
I think it is time that we not only embraced this imagery but practiced it. Can you imagine how different our world would look today if followers of Jesus all laid down their guns and looked for peaceful ways to resolve conflict and violence. Until we are willing to do that I don't think that we will see any change in the violence of our society or in the attitude towards guns.
What do you think?