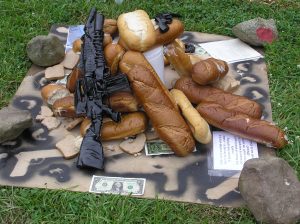 I posted this invitation a couple of weeks ago but wanted to make sure that everyone is aware that the invitation is still open. I hope that we will be able to run posts on this topic at least through until the end of August so you have lots of time to write or to get us in touch with someone else who should be writing on this topic. Hospitality is one of the keys to the kingdom. Celtic Christians saw themselves as guests of the world, constant receivers of God's hospitality, blessing and bounty. I think this is a perspective we need to regain. We take so much for granted and rarely stop to thank God for the wonderful gifts so generously provided.
As we head into the summer here in the northern hemisphere many of us are gearing up for hospitality – BBQs, visits from friends and relatives, mission trips. Hospitality is all around us at this season and we thought that we would make it the theme for the season on Godspace too.  To be more specific our theme is Hospitality – Opening Doorways to the Kingdom  we hope you will join us:
How have you experienced the hospitality of God through strangers? Perhaps you have welcomed strangers who have turned out to be angels in disguise. Or maybe you have been a stranger and known the welcome of others. Consider telling your story in a blog post on Godspace in the next few months.
How have you experienced the hospitality of God's world. God's creation provides us with hospitality and welcome every time we partake of its bounty. Do you have a story of God's generous hospitality through unexpected provision from nature. My mind always goes back to the miraculous provision of fish we experienced when I was first on the Anastasis in Greece. Perhaps you forage for wild foods, or harvest wild blackberries when they are in season. This is a hospitality we often take for granted or even reject like the children of Israel did with God's provision of manna.
There are other aspects of hospitality you might like to write about too – like how to be hospitable on a budget, or how to host a potluck that is a safe space for people with allergies and other restrictions. Perhaps you want to share about a ministry at your church or in your community that is based on hospitality – feeding the marginalized, cooking and gardening classes all fit into this category.  This offers up many fun opportunities for us for the coming months and we hope that you will participate.
Contribute a recipe or describe a craft that you use for hospitality with the story of how this became important and why. Last week I posted this recipe for quinoa muffins which I made to provide a quick and easy but nutritious breakfast for my Inhabit guests. Recipes like this make hospitality simple yet festive, welcoming and fun.
This promises to be an inspiring, and fun blog series over the next few months and we hope that you will contribute, read along with us and share with your friends. This is an open invitation, an offer of hospitality for involvement in the blog too. So please let your friends know and invite them to contribute too.