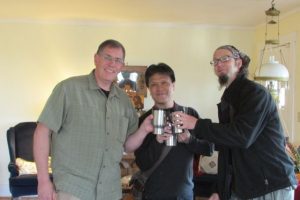 Don't forget to show hospitality to strangers, for some who have done this have entertained angels without realizing it! (Hebrews 13:2 NIV)
These words revolve in my mind today as I remember rich hospitality we have experienced in the last couple of months and anticipate the hospitality to come. Easter is over and we have entered a season that beckons us to be hospitable to friend and stranger alike. One of Christ's first appearances after his resurrection is as the stranger on the Emmaus road, His true nature is recognized only when he breaks bread together with his fellow travellers. This is the first Eucharistic celebration of the new kingdom.  He also comes as Christ, the friend by the sea of Galilee, preparing breakfast for his closest followers.
Through the doorways of hospitality to friend and stranger, those first disciples were welcomed to the banquet feast of God.  Today too, the purpose of God's people is to invite stranger in and offer hospitality by breaking bread together, sharing the Eucharistic feast. By so doing we both welcome Christ and represent Christ.
Hospitality a way of life at the Mustard Seed House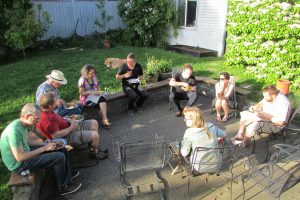 Hospitality has always been an important value for us at the Mustard Seed House. A couple of weeks ago we hosted Al Tizon, co-president of Evangelicals for Social Action, and Shane Claiborne from the Simple Way, as well as MSA's own team member Andy Wade for the Inhabit conference. This last week our good friend worship curator Mark Pierson from New Zealand spent several days with us, and this today we yesterday Dave Jansen from Reba Place came to stay overnight.
Later in May Tim Nafziger assistant director of Christian Peacemaker Teams  and his wife Charletta will visit us. Then June 9th we will host Chris Smith and John Pattison for a discussion of their book Slow Church 
Hospitality at Godspace
As we head into the summer here in the northern hemisphere many of us are gearing up for hospitality – BBQs, visits from friends and relatives, mission trips. Hospitality is all around us at this season and we thought that we would make it the theme for the season on Godspace too.  To be more specific our theme is Hospitality – Opening Doorways to the Kingdom  we hope you will join us:
How have you experienced the hospitality of God through strangers? Perhaps you have welcomed strangers who have turned out to be angels in disguise. Or maybe you have been a stranger and known the welcome of others. Consider telling your story in a blog post on Godspace in the next few months.
There are other aspects of hospitality you might like to write about too – like how to be hospitable on a budget, or how to host a potluck that is a safe space for people with allergies and other restrictions. Perhaps you want to share about a ministry at your church or in your community that is based on hospitality. This offers up many fun opportunities for us for the coming months and we hope that you will participate.
Contribute a recipe or describe a craft that you use for hospitality with the story of how this became important and why. Last week I posted this recipe for quinoa muffins which I made to provide a quick and easy but nutritious breakfast for my Inhabit guests. Recipes like this make hospitality simple yet festive, welcoming and fun.
This promises to be an inspiring, and fun blog series over the next few months and we hope that you will contribute, read along with us and share with your friends. This is an open invitation, an offer of hospitality for involvement in the blog too. So please let your friends know and invite them to contribute too.