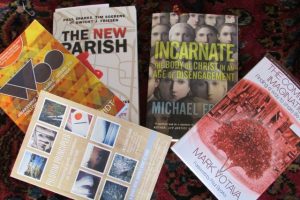 By now you are probably sick and tired of me harping about how much I enjoyed the Inhabit Conference. However as the speakers' words continue to revolve in my mind I can't help but continue to talk about it.
Part of what I enjoy is the opportunity to come home with a bag of books from an event that I know will continue to enrich my life over the weeks to come. I tink that some of these would enrich your journey too.
The New Parish by Paul Sparks, Tim Soerens and Dwight Friesen is the book that has gripped all of our attentions. Tom and I are strong advocates for the work that these wonderful people co-ordinate through the Parish Collective and I am looking forward to spending more time reading this wonderful resource. They are not just advocates but practitioners, intimately involved in their communities and the transformation of their neighbourhoods.
Incarnate: The Body of Christ in an Age of Disengagement by Michael Frost is another powerful book well worth reading. I am challenged by Mike's articulate and persuasive discussion of how our modern world excarnates or disengages our faith from everyday life. His call to incarnation is new and fresh and wonderfully contextualized for the world in which we live.
The Communal Imagination: Finding a way to share life together by Mark Votava is another excellent book well worth the read. In it Mark challenges us to move beyond individualism to community, a call to place and proximity that we can never hear enough of in today's world.
Woo: Awakening Teenagers' Desire to Follow in the Way of Jesus by Morgan Schmidt. I don't usually comment on youth ministry books, but in this book Morgan impresses me with her down to earth approach and her realistic expectations of young people while at the same time challenging them to follow Jesus not just with words but with actions.
Pilgrim Principles: Journeying with intention in everyday life by Lacy Clarke Ellman. This is a very practical and inspiring book that encourages all of us to live as pilgrims opening our eyes and ears to the spirituality of ordinary everyday experiences that can be transformed into sacred moments. This is a delightful book that I am finding rich and inspiring.