It is already Good Friday in Australia, New Zealand and parts of Asia so I wanted to get these Good Friday prayers up early. May we all enter into this day with heaviness of heart for the high cost of redemption.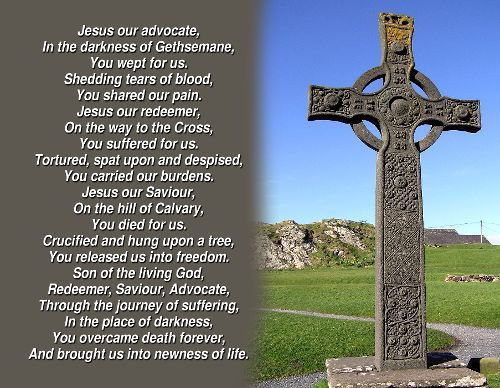 It is finished.
The procession begun in triumph
with shouts of acclamation.
Hosanna, Hosanna!
has ended
with cries of condemnation.
Crucify, crucify!
It is finished.
The king has become a slave,
power and wealth conquered
by the One who washes feet in love,
and dies the death of outcasts.
It is finished.
The transformation is complete,
and in this story lies my hope.
From death springs forth new life.
The seeds of Christ
buried in my heart
will see resurrection light.
It is finished.
Make of us your new creation Lord.
Nourish the soil,
raise us up transformed.
May we remember the ways you loved.
From death of self
Let us live to love and serve and share.
Let your life be multiplied in us
to become fruit for our hurting world.
The photo above is one of a series of prayer cards published for Lent and Easter.