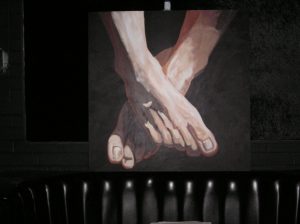 Passage: 1 Corinthians 12:12-26
I giggled to myself the first time I read through this passage. Certain questions would run through my mind like "How would I react if my thumbs packed their bags said to me 'I don't need you!'" or "Lord, what do you mean give unrepresented parts greater honor? Should I acknowledge my collar bones more often?"
I didn't quite understand what the passage was hinting at until I imagined what life would be like without these parts- without opposable thumbs or bones that support you when you stand. Every part is essential and has a purpose- even down to the skin between our thumb and index finger. The Lord tells us in this passage that we are all part of the body of Christ. This is something we're all familiar with; we've heard variation after variation in church. Yes okay, every member of our church has a purpose. Yes okay, we must remain united to function. But what if we thought about this passage in a global sense? What if we thought about the body of Christ extending across the oceans and encompassing all of our brothers and sisters throughout each and every continent? We are the body of Christ in disunity because so often we forget the enormity of the global Church.
Many times we remain so focused on our lives that we unconsciously say to the rest of the body body "because I am not a hand, I do not belong to the body. I can function on my own." This parallels our treatment to the rest of the global church. We have enough money, we have our own comforts and our own bible studies- We can function on our own. Ah, but this is the lie of disunity. This passage in Corinthians implies that we NEED our brothers and sisters in every country because "although we are many parts, we are one body". We need them as much as they need us. We need each other in order to see the fullness and splendor of the united body of Christ.
Every part of the body is required to function. This Lenten season I urge us to live in daily awareness of our brothers and sisters who have been deemed "dispensable". We must remember our counter parts in other countries not just to function but to thrive. There must be no division in the global Church- to the point that if they suffer we will suffer with them. And even more beautifully, there must be no division in the global church to the point that when they are honored we can genuinely rejoice with them.
Bio:
My name is Sajira Mae Awang, a Filipino-American currently living in an informal settlement of Quezon City. I've been given this beautiful opportunity to be challenged and grow through my masters in Transformational Urban Leadership. All for the love of the poor, because it's the only thing that matters most to me besides Jesus.