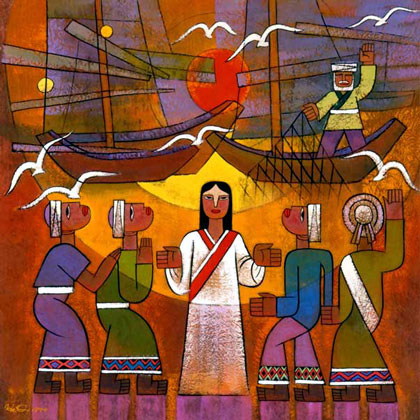 This week the Lenten reflections on Godspace will focus on homelessness. I had planned to write a traditional post to start the week by talking about the statistics and the challenges of homelessness in its many forms from refugees to street people. But that just was not resonating in my spirit. As I listened to the rhetoric flying backwards and forwards about World Vision, and read about the growing ground swell for immigrant reform it occurred to me that home is more than a place to live and the challenge of homelessness is more than that of providing a roof over someone's head.
Home is a place where we feel loved, safe and accepted. The deep longing of all our hearts is to find our way home. Unfortunately there are many homeless exiles in our world because of our rejection. Some we reject because of their sexual orientation. Others we turn away from because of their disabilities, or their ethnicity or their social status. Sometimes we reject people because they don't adhere to God's law in the way that we interpret it.
I could not help but think about that in church on Sunday as we read the story in John 9:1-41 of the man born blind whom Jesus healed. This story is amazing, not because of the miracle Jesus performed but because of society's response. The man is doubted by his friends who begin to wonder if he really was born blind, abandoned by his parents who are afraid of the religious leaders, and thrown out of the synagogue by the Pharisees who were totally closed to anything outside their understanding of the law.
Their response leaves him homeless, without friends and without a religious community to support and guide him. Then Jesus comes back into the picture, and reaches out to the once blind man bursting out beyond the rigid barriers of blame and condemnation with non judgmental acceptance. Jesus offers him a place of belonging, a place in the family of God to call home.  
How often I wonder have I been blind to what God is doing in someone's life because that person's understanding of God and faith is outside the bounds of what I think is acceptable? How often have I denied them a home in the family of God and stripped them of humanity because of my judgement of their behaviour or their appearance? How easily do I forget that I too was once without a home in the family of God, blind to the truth of Jesus' all embracing love?
Overcoming this type of homelessness requires a transformation of our attitudes from blame and condemnation to acceptance and love. Jesus finds many people acceptable that we do not. He goes out into the highways and byways and says come to the unacceptable – to male and female, to black and white, to Jew and Greek and I think to straight and gay, to rich and poor, to all that we want to exclude and deny a home to.
We need to remember that it is only by the grace of God that any of us find our way home. Our job is not to condemn but to accept without judging those who are searching for a home. We should focus not on what they have done wrong but how we can support and help those around us on their journey.