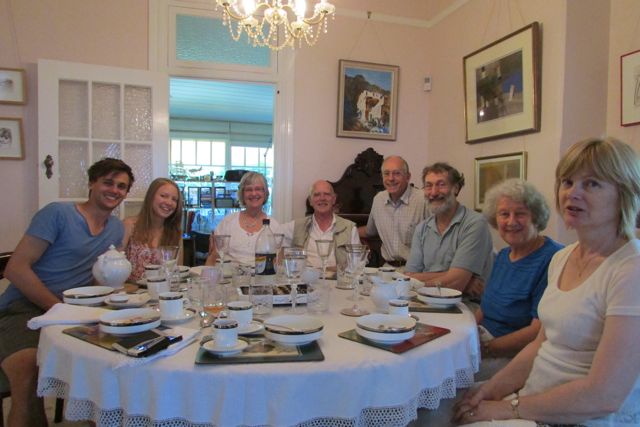 As I mentioned in yesterday's pot, Tom and I are now in Australia. We arrived just in time to celebrate my 63rd birthday. It is the first birthday celebration I have had in Australia for almost 40 years. Significant in the timing of God I don't know, but definitely for me a sense of new beginnings as I negotiate this trip without my mother's presence.
Yesterday we had a wonderful birthday lunch with two of my brothers, my niece, one of my nephews and his wife. As you can imagine we started with a lot of reminiscing about our childhood, stories about Mum and our interactions together. Then we started talking about our family history.
My father was Greek but it is probable that my maiden name Aroney originated in the Middle east, a rendition of Aaron. Perhaps way back we have Jewish blood in us. My ancestors migrated to Constantinople, then to Spain and finally to the island of Kithera off the southern coast of Greece. Then in the early 1900s many headed for Australia. Blue eyed Greeks, maybe mixed with Viking blood, no one is sure, but we all wonder and speculate. We want to know where we come from. We want to know where we belong.
My mother's family is harder to trace. Her parents migrated from Scotland in the early 1900s, her mother from Aberdeen, her father from Keith. Her maiden name was Milne, a common Scottish name and her Dad's family probably goes back a long way in Scotland. But Mum's mother's name was Cato. Is it Spanish, Italian? Again no one knows but we can speculate. Her family was part of the aristocracy and the Scottish nobility had close ties to the Spanish Court.
These discussions have been very important for me. Knowing where we come from and where we belong is important for all of us. When we have no sense of rootedness we feel like souls without anchors.
For us as followers of Christ, our rootedness is meant to be in the story of God and our sense of belonging is meant to tie us to the kingdom of God. It culture, its values, its way of looking at the world transcends the cultures in which we grew up and from which we draw our stories. Living into this culture with its emphasis on love, peace, and generosity is meant to anchor us in ways that the stories of our birth families never can.
But just as I have had to make a deliberate effort to travel back to Australia to reconnect to my family and to my culture, so we need to make a deliberate effort to "travel" regularly into the land of God's kingdom and immerse ourselves in God's culture. Only then will be really find the anchors that our souls need to hold us through all the ups and downs of life. So in the midst of my family times I find myself asking a question I would like to challenge all of us with:
What am I currently doing to anchor my life, my values and my world view in the kingdom of God?