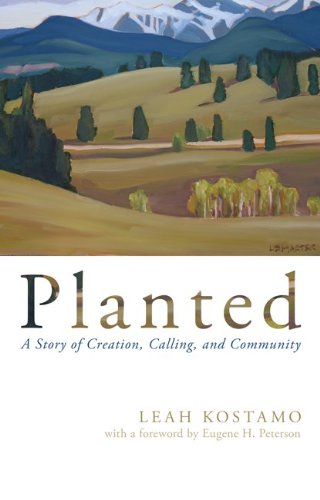 Tom and I are on our way to Australia, but my thoughts are still with the garden I have left behind and all I need to do to get ready for the upcoming season. The place I start is always with reading a few books to get me revved up for the season. Leah Kostamo's book Planted: A Story of Creation, Calling and Community, is a great place to start. It is easy to read, full of delightful stories and yet well grounded in theology and a deep concern for God's good creation.
Leah's story of the growth of A Rocha in North America is engaging and fascinating. She wrestles with important issues of justice, poverty, simplicity and environmental degradation. I love the humility that admits to the struggle and frustration that she and her husband Markhu face when they make significant life changes in order to commit to what they believe is God's call on their lives. Her vulnerability is refreshing.
My favourite quote:
What I'm striving for in my own daily life is true simplicity, characterized not by deprivation, but by honest, joyful living. Out of this place of joy and material simplicity one is able to question both consumer trends and one'w own desires…. If we live in this sort of freedom we are also released from making simplicity a goal in itself
I highly recommend this book not just to all my garden friends and to those who are interested in environmental stewardship, but to all those who want to take the purposes of God seriously. This is a great book to give to your friends who need to be gently introduced to these concerns.