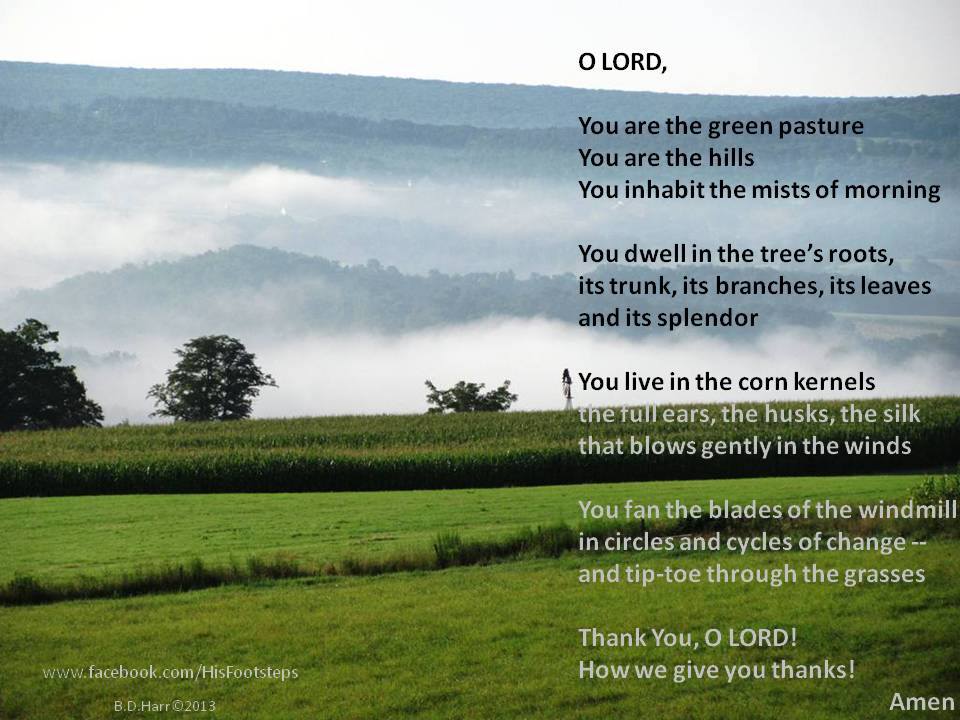 Lord as I enter this day,
May your fire be kindled in my heart.
May the flame of your love burn bright within me,
May its spark ignite your love in others
Warming the lonely,
Comforting the grieving,
Protecting the vulnerable.
This day and every day
May your love shine bright for all to see.
Christine Sine https://godspacelight.com/
When heart is heavy,
body weak,
life filled with sadness,
spirits low,
when days are lonely,
dark with cloud,
preventing sunshine
breaking through;
remind us that you are
never further away
than a whispered prayer
can reach,
never closer
than when we're weary
and on our knees.
(http://www.facebook.com/faithandworship)
One of my favourite Gerald Manley Hopkins poems:
Glory be to God for dappled things-
For skies of couple colour as a brindled cow,
For rose moles all in stipple upon trout that swim;
Fresh-firecoal chestnut-falls; finches wings;
Landscapes plotted and pieced-fold, fallow and plough;
And all trades, their gear and tackle trim.
All things counter, origninal, spare, strange;
Whatever is fickle, freckled (who knows how?)
With swift slow; sweet, sour; adazzle; dim;
He fathers-forth whose beauty is past change;
Praise him.
———————————–
When we call out your name
in times of hardship
or in our despair
and fail to hear your voice
or see the answer we desire,
forgive our impatience.
When we pray for healing,
freedom from fear
or relief from Satan's grasp,
and grow weary of the task
of continuing with prayer,
forgive our lack of faith.
Your ways are not ours,
but in all things you are God,
your love and justice
will always prevail.
In your time and in your way
you will answer all our prayer.
(http://www.facebook.com/faithandworship)
Lord Jesus Christ,
your ways are good
and I praise you.
Your purposes are true
and I exalt you.
Your compassion never fails
I lift my eyes to you in adoration.
Christine Sine https://godspacelight.com/
Like the joy of the sea coming home to shore,
May the relief of laughter rinse through your soul.
As the wind loves to call things to dance,
May your gravity by lightened by grace.
Like the dignity of moonlight restoring the earth,
May your thoughts incline with reverence and respect.
As water takes whatever shape it is in,
So free may you be about who you become.
As silence smiles on the other side of what's said,
May your sense of irony bring perspective.
As time remains free of all that it frames,
May your mind stay clear of all it names.
May your prayer of listening deepen enough
to hear in the depths the laughter of God.
— John O'Donohue (from "To Bless the Space Between Us: A Book of Invocations and Blessings")
With thanks to Philomena Ewing
http://blueeyedennis-siempre.blogspot.com/
For all answers to prayer
gracious Lord, we thank you.
For a touch bringing healing
and lives made whole.
For the sharing of comfort
when the season is cold.
For one door that opens
and another one closed.
For the unseen blessings
of sharing your word.
Gracious Lord, we thank you
for all answers to prayer.
(http://www.facebook.com/faithandworship)
You are the God of eternal patience, ever waiting, ever planning, ever working towards a purpose of which we have just a glimpse.
Our vision is often more limited: by our own concerns, by our own fears, by our own imaginations.
Yet in these things there are seeds: the work of your spirit opening our mind and stirring our actions towards something greater than even we see.
Grant us, in this time of worship, a measure of grace to continue to wait in hope, to wait in expectation, and to wait with an openness to the fullness of Your purpose.
God of all ages, you have repeatedly planted the dream in unlikely people.
We remember the vulnerable and barren Abraham, whom you chose to father a multitude long before (and after) it seemed possible.
You called Moses to lead a transformation, even while he was part of a power which was at the heart of that problem.
Amos was a shepherd and tree-keeper in another part of the world when you sent him to your people with a unique message.
And Hosea – a man with deep family relationship issues – becomes a bearer of hope in the midst trouble.
Your eyes, O God, have ever been lifted to a future beyond our vision, yet one of which you give us glimpses.
Though we barely understand, and though we do not trust our capacity to see it through, we pray that you would continue to lead us through.
For you have not only shared the vision with us, You have poured out Your Spirit upon us, empowering us to do, and to be…
In our worship, we declare Your glory
In our prayer, we seek Your wisdom
In community, we begin to understand the wonder of Your grace.
In our surrender, we declare our trust in You.
Lord, we praise You!
Gary Heard http://the-eighth-day.blogspot.com/
Lord, let us walk into this day
Your light before us,
Your shield behind us,
Your friends beside us.
Lord, let us walk into this week
Your life before us,
Your strength behind us,
Your love around us.
Lord, let us walk from this place,
Your wisdom before us,
Your truth behind us,
Your breath within us.
Lord, let us walk into the world,
Gratitude in our hearts,
Thanksgiving on our lips,
Joy in our spirits.
Lord, let us walk into your loving presence,
In the name of the One who loves us,
In the name of the One who cares,
Father, Son and Holy Spirit, One in Three, Three in One.
Christine Sine http://godspace.worpdress.com/
Gracious and generous God,
We remember all the gifts you have given us,
We remember how lavishly you have provided,
We remember how lovingly you have cared,
We remember especially that greatest gift of all,
Jesus Christ our Saviour,
And we give you thanks.
Amen.
Christine Sine https://godspacelight.com/
On this our journey of faith
we trust in you alone, Good Shepherd,
guiding us
along a path you are familiar with,
leading us
beside green pastures and quiet waters,
feeding us
your word as refreshment for our souls,
steering us
from that which might tempt and divert,
protecting us
from that which might harm or destroy.
We trust in you alone, Good Shepherd,
on this our journey of faith.
(http://www.facebook.com/faithandworship)