I don't usually blog on Sundays but was chatting to Lilly Lewin at Inhabit this weekend where I learned about this wonderfully creative Stations that she produced in response to the Boston marathon. I wanted to share it for those who might like to use it for their Sunday observances. Check out the entire post and her blog: Praying in Response to Boston marathon and Global Violence
——————————————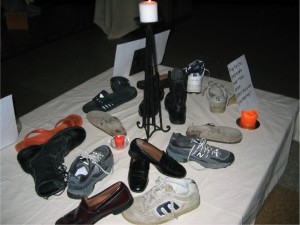 PRAYING IN RESPONSE TO BOSTON MARATHON and GLOBAL VIOLENCE
Stations created April 16, 2013 in response to the bombings at the Boston Marathon and as a prayerful way to responds to violence in our everyday world.
Use all of these stations created and set up together as a prayer experience for your small group, youth group or your whole church, or just pick one or two to do as a corporate prayer response during worship. Or just use the run/walk prayer yourself this week as a part of your personal prayer /devotion time.
Feel free to use these stations to inspire you to create your own prayer stations. I would love to hear about how you used them in your community.
Praying for peace and healing for us all!
Lilly
Read the entire post: Praying in Response to Boston marathon and Global Violence