Today's post for the series Return to Our Senses in Lent is written by April Yamasaki. April is a pastor and writer who blogs on spiritual practice, faith, and life at http://aprilyamasaki.com. Her new book is Sacred Pauses: spiritual practices for personal renewal available from Menno Media/Herald Press, Amazon, and your local bookstore.
A year ago, I was pretty much a stranger to social media. Once upon a time, I had joined Facebook to see some pictures sent by a friend, then promptly hid my profile since I hadn't wanted to take the time to fill it in or find new friends. I had several invitations to LinkedIn that I had dutifully saved instead of deleting. Every so often, one of my sisters would send me an email signed from "your Facebook Liaison," so I wouldn't miss out on any family news.
But last May, I finally followed up on my LinkedIn invitations–and yes, they still worked even though they were a few years old. I signed up for my own Facebook, then Google+. I started blogging. By Christmas, I had signed up for Goodreads and Twitter too.
As Lent approached, I learned that one friend was planning to give up Facebook for his Lenten practice. "That's not for me," I said to myself. The world of social media was all still new to me. It was something I could dip into or out of at any time. I wasn't immersed in it every day.
Then a Twitter friend said he was going to "disappear" for just one day on Feb. 27 in honor of the 27 million men, women, and children who've disappeared in slavery around the world. I decided to follow suit—no Facebook, no Twitter, no LinkedIn, no Google+, no Goodreads, no blogs. I posted this on my own blog the night before: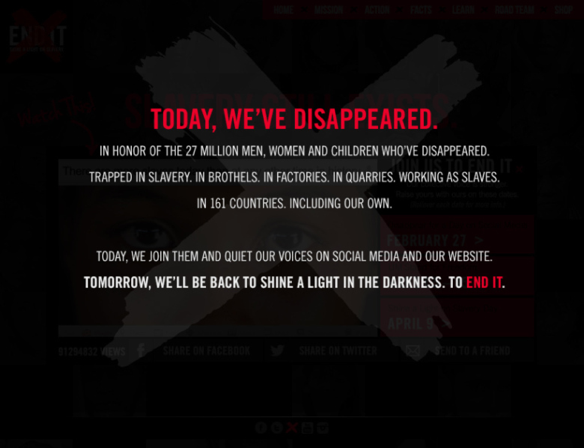 I didn't think anyone would miss me. After all, I don't blog every day. I don't post something on Facebook or Google+ every day. Even my daily Twitter activity was just a few tweets. Who would notice?
As it turned out, I noticed—much more than I thought I would. I thought about the millions of people who have disappeared. I wondered about the people they were missing and that were missing them. I held them all in my prayers: Lord have mercy, Christ have mercy. That was the reason I had "disappeared" from social media that day. But I also discovered that I felt more focused. I felt freer from distractions. I felt less pressed for time.
I've been reflecting on that experience as I've been reading chapter 9 of Return to Our Senses on "Facebook, Blogging, and Go To Prayers." Is social media "a wonderful tool, or a terrible distraction"? I can see the potential for both.
And so even as the end of Lent is in sight, I'm making a new commitment not just for Lent but for the future: for a once-a-week, social-media-free day, Saturday 6pm – Sunday 6pm, and I'm coupling that with a commitment not to look back endlessly through everything I've missed.
The truth is, a person is always missing something. It's not humanly possible to know everything about everything. And that's okay. God knows. God is sovereign. I'm resting in that thought.