Today's reflection in the series Return to Our Senses in Lent comes from Jim Fisher. Jim tells me he has no credentials. He has no degree. He is the author of no books. He has never attended a seminary. But he does love his journey of faith and loves to write stories he calls Holy Hugs. It's not really a blog, but rather a collection of stories and reflections that he hopes nourish and inspire the right side of your brain in this crazy left-brained world.
——————————-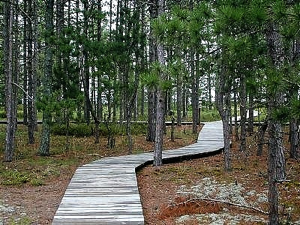 Phew! What a journey this is! I need to take a detour off this trail, plop myself on the beach up ahead beyond the edge of the trees. I need to take off my shoes and dig my toes and my sit-bones into the warm sand. Dear Lord, rest my soul, rest my body. I need a break.
I close my eyes and allow the sun to warm my face and the upturned palms of my hands. My index fingers lightly touch my thumbs. The sound of the breaking waves off in the distance fills me with a mysterious and profound peace. I am alone … but not really.
It is Ash Wednesday, the beginning of Lent. I have to give something up. I do this every year. What should it be? TV? Nope. Already did that … fifteen years ago … never to return. Chocolate? Desserts? Nope. No sugar for me, thanks. I'm hypoglycemic. Beer? Wine? Maybe. Facebook? The Internet? Maybe. The Seven Deadlies: Wrath, Greed, Sloth, Pride, Lust, Envy, Gluttony? What shall it be?
Idolatry?
Maybe.
But why?
Ostensibly I go without to remind me of my lack, my separation from God; to remind me of the hole in my soul that yearns to be filled to its fullest; to remind me of the hole that yearns to be whole.
So I empty myself of something for a season to remind me of the gap that exists between who I am and who God is. I am on this walk because I feel that gap between myself and God. I am seeking Jesus to fill that gap. I am worshiping the One who can make me whole. It's like the picture of the two cliffs with me on one side and God on the other with a chasm in between. Only Christ can fill that gap.
Right?
Idolatry is when I try to replace God with success, good looks, fortune, youth, or fame. Pick whatever you seek. Pick whatever you think you lack. Pick your gap. Pick your Idol. Place it on the other cliff and our society will supply a seemingly endless variety of products and advice promising to bridge you over to your goal. I get that. I feel those gaps.
But I also feel a gap between myself and Love, but my inability to love perfectly is different somehow. I do not approach Love as an object beautiful and sublime in itself on the opposite cliff. I do not approach Love as if it was an Idol to be worshiped. Love is not like that. Love does not say, "Look at me!"
Rather, it invites me to regard others through its lens.
In fact, Love invites me to regard all of Creation through the lens of the Holy Spirit – through the lens of Godly Love. Perfect Love is within me because the Holy Spirit is within me. But wait a minute. If God is Love, how does this fit into the metaphor? What am I really reaching for?
As I hold my face to the sun, I feel The Holy Spirit sprinting down the beach toward me. She stops. She sits facing me, gathers my hands into hers, washes her breath across my soul and whispers into my heart, "You are my beloved. Love who you are, my dear. Love who you were created to be. Open yourself to Love and allow me to seep into every corner of your Being. The One who you reach for has already has taken up residence within you. But the goal is not as you imagined. There actually is no chasm between us. We are becoming as one. I have been here since you began your walk down this path and accepted God's Son into your life. Hold my hand. Embrace me. Give me a hug, you fool! Allow me to live through you. Arise and continue your journey, dear friend, knowing that your completeness and joy comes more out of the journey than any imagined destination."
Oh. Wait. Now I see it. The two cliffs are merging. The two are becoming one. The metaphor is starting to dissolve and fade away. And, yes, I understand that the two will never actually become one. I will never become God. That's not the point. The joy arises from the imperfect eternal becoming like Christ, not the perfect oneness.
As the Holy Spirit nestles herself anew into my soul, I arise, brush the sand off my pants, and continue my journey, but now it has taken on a different feel, in a way. There is a dance in my heart and a spring in my step. I am practicing speaking through Love, seeing through Love, hearing through Love, touching through Love. I am a new creation (again!).
I am starting to look through Love with wide-eyed anticipation and joy, and all of Creation starts to look a little differently through its lens.
Perfect Love does not need to be reached or accepted to work through me. It is not an end-point in itself. It is something I drink in and splash around as best I can. I hope you don't mind.
And, too …
Love does not operate in isolation.
Love does not expect to be doted on.
Love does not even need to be understood.
What we believe about Love makes no difference. What we do through Love makes all the difference in the world.
So what stuff am I giving up for Lent? Nothing, actually, and yet everything, in a way. I am giving up and giving in – giving up on a metaphor that depicts a distant god and giving in to the God who is already within me.
Oh, Lord! I am going to need help with this! Cause your lavish, liquid Love to infuse every cell in my body and every dark corner of my soul. May it seep into every thing and every one I touch. May it filter everything I see and hear. May it harmonize with everything I speak. And may it float beneath everything I write.
… and not just for the next forty days.
Amen.