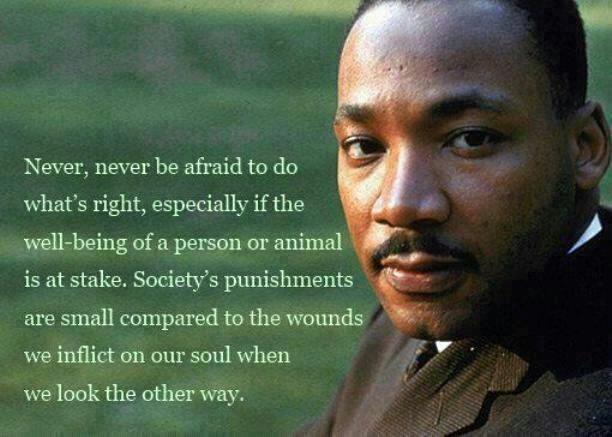 This morning two images have merged in my mind. This Martin Luther King quote from the Idealist  and another quote from Randy Woodley's book Shalom and the Community of Creation. 
When we cease to trust the Creator for our daily provision, evil takes over and oppression occurs. Shalom, with its embedded concern for the poor, the marginalized, the animals, the birds and the earth, is the divinely preferred way for humans to live. Justice and righteousness are weapons to be employed in order to combat evil, once the systems begin to become corrupted. Truth, which I define here as following the natural paths of God's intentions, is also one of the main weapons that humans have been given in order to fight the temptation towards self-reliance (80)
When we don't do what is right and trust our God for provision but rely instead on the values of greed, exploitation and oppression, evil does indeed take over. We have seen it in the enslavement and genocide of peoples. We have seen it in the confiscation of native lands. And we have seen it in the destruction of the earth's animals and habitats. My home country Australia is suffering from record breaking temperatures that have soared to over 50C or 122F. sparking hundreds of bushfires.  The government's climate commission admits that climate change had contributed to making the extreme heat conditions and bushfires even worse.
Surely there has never been a better time to refuse to look the other way. All of us need to do what is right for those who are still oppressed and marginalized in our world. We need to do what is right to reduce emissions and reduce our consumption to contribute our small bit to the fight against climate change.
As Martin Luther King suggests, our souls suffer along with our bodies and our world when we do not do what is right. I pray that today all of us will catch a fresh glimpse of God's incredible shalom kingdom in which all humanity is set free, creation is restored and we all live together in peace, harmony and mutual concern.
What do you think?