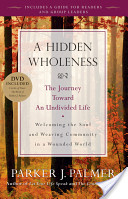 A couple of days ago I mentioned how a story in Parker Palmer's book A Hidden Wholeness changed my perspective of the seasons. This book has been very helpful in other ways too.
As many of you know, here at Mustard Seed Associates we have adapted the Quaker discernment process as the way to run our meetings. Palmer's book is the most helpful I have read in recent years in relation to this. It is a book written for schools and businesses on the creation of circles of trust. It brings together many of Palmer's popular themes which I will summarize here is some simple quotes.
the shape of an integrated life: Wholeness does not mean perfection: it means embracing brokenness as an integral part of life
the meaning of community: Community does not necessarily mean living face-to-face with others; rather it means never losing the awareness that we are connect to each other….we need solitude and community simultaneously; what we learn in one mode can check and balance what we learn in the other. 
teaching an learning for transformation: When you speak to me about your deepest questions, you do not want to be fixed or saved; you want to be seen and heard, to have your truth acknowledged and honoured. 
not violent social change: imagine the heart broken open into new capacity…into greater capacity to hold more of my own and the world's suffering and joy, despair and hope…. broken open to a largeness that holds the possibility of a better future for us all.
I think this is a must read book for any follower of Christ seeking to develop healthy community minded ways of interacting with their colleagues, friends and even families (which I think should be all of us). A Hidden Wholeness  is I think my best read of 2012.