Not surprisingly this week prayers posted at Light for the Journey have focused on Advent and our waiting for the coming of Christ. Lots of beautiful rich prayers about this season of preparation. Enjoy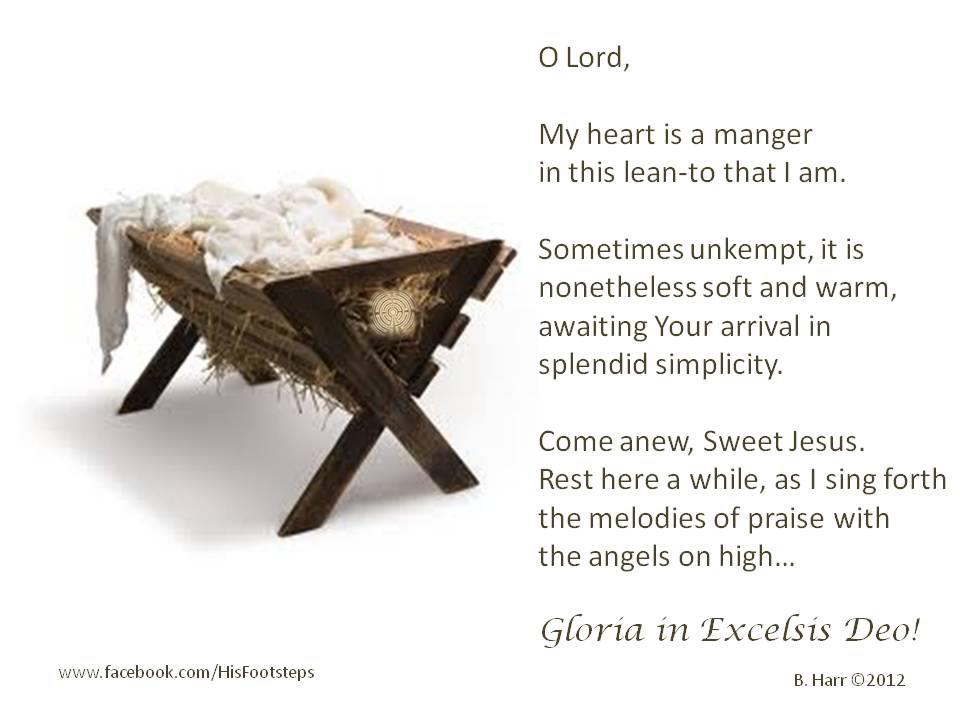 Lord Jesus Christ we await your coming,
We wait filled with hope,
Knowing your light will shine in the darkness.
We wait anticipating your peace,
Believing that one day it will fill our world.
We wait embracing your love,
May we reach out to share it with our neighbours.
We wait with joy,
Bubbling us in expectation of your birth.
Lord we wait,
Come soon and fill us with your life.
Christine Sine 2012
———————————————
Let us kneel in the darkness,
Until we see God's light emerge.
Let us wait with hope filled hearts,
As Christ's image grows within us and shows us life.
Let him speak to us and teach us love,
Until we open our hearts to be his home.
Christine Sine 2012
————————————————-
advent
eyes straining to see
dim light, dark glass, confusion
God's future unfolds
longing, not ready
distracted by life's worries
how long will I wait?appearing godly
barren soil destroys new life
revealing parched soul
another year gone
unplanned, unprayed, disjointed
all creation waits
advent calls my name
scraping scales of death from eyes
God's future unfolds
Immanuel
St. Nicholas' Day, 2009 AFWade
———————————————-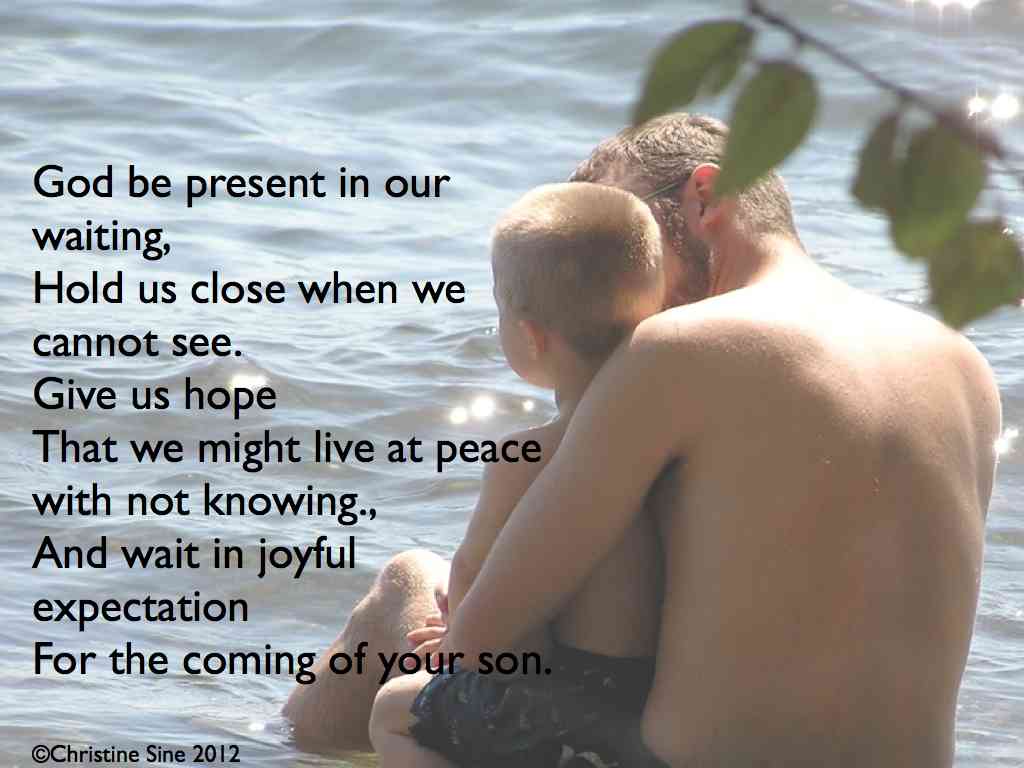 Advent God,
we journey with you,
to Bethlehem's stable
and a new-born King,
ears attuned
to the song of angels,
eyes alert
for Bethlehem's star.
Forgive us
if on our journey
if we are distracted
by the tempting offers
of this world.
Keep our hearts aflame
with the hope
of Christmas,
and the promise
of a Saviour. Amen(
www.faithandworship.com
)
———————————————
Alleluia the Christ child comes,
And we await his birth.
Let us throw off our distractions,
And allow the chaos to settle.
Let us watch for the signs,
And listen to the messengers.
Let us stand on tiptoe,
And shout aloud and sing.
Something new is emerging,
Something new is being birthed.
——————————————
The coming of our Lord is near,
And we wait in joyful expectation,
Draw close, Lord Jesus Christ,
Shed your light on all that is filled with darkness.
The coming of our Lord is near,
And we wait with hope filled hearts,
Draw close, God's beloved son,
Teach us the wonder of your all embracing love.
Christine Sine 2012
———————————————
Let us prepare our hearts as we await the coming of our Lord,
Let us watch for the one who heard our cries and shouldered the suffering of our world,
Let us anticipate the coming of Christ's eternal world with wholeness, reconciliation and plenty for all.
Let us wait in expectation for the day when God's glory is revealed in all its fullness.
Christine Sine 2012
————————————————
The Advent story
of hope and mystery,
anticipation,
preparation,
a kingdom
of this world and the next,
and a king
appearing when we least expect.
Heaven touching earth,
the footsteps of the divine
walking dusty roads
as once they did in Eden,
and a people,
searching for a Saviour
and walking past
the stable.
Open eyes and hearts,
that this might be
an Advent of hope to the world.(
www.faithandworship.com
)