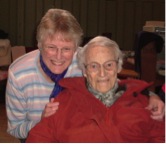 Today's post in the Advent series Let Us Wait As Children Wait, is written by Anne Townsend.  Anne lives in Bromley ,UK. She worked as a missionary Doctor with the Overseas Missionary Fellowship in Thailand for 16 years. On return to the UK she worked as editor of Christian Family Magazine, and then as National Director of CARE Trust. Following  a transforming breakdown and crisis of faith, she trained as a psychoanalytic psychotherapist and worked with clergy and religious facing emotional and spiritual difficulties. She was in the first wave of women to be ordained as priests in the Church of England, has written a number of books including: Faith Without Pretending), Good Enough for God, and  Hidden Treasure. She has three adult  children and six grandchildren,  and a husband with early Alzheimers.
TOO OLD AND DECREPIT TO BLESS?
There are times when the very old may become like children to some of us. We bath, feed, cuddle and play with them, change their nappies, clear up their messes, dress them and push them around in pushchairs.
But, in their helplessness and dependency, like small children, they may be an unexpected source of blessing. I discovered this on the roadside grass verge, by the A3 Tibbett's Corner roundabout, where my 100-year old mother and I were enjoying our weekly cup of tea and sticky bun from Jake's Burger Bar. She had had a severe stroke seven years earlier, was paralysed, couldn't speak, and lived in her wheel chair.
It was an ordinary kind of a morning. Ordinary things were going on around us. The workmen munched their bacon butties as usual, the buses and vans swerved round the corners, the sun shone feebly. They chatted to my mother, ignoring the fact that although her eyes indicated that she understood, like a preverbal child she could not audibly reply to them.
Then I noticed the man in his late sixties moving slowly across the grass, his eyes fixed on the ground, as if searching for hidden treasure. But it wasn't treasure he was after. His job was to notice and pick up every piece of litter scattered on the ground. He was doing this intently, as if his life depended on it.
Our eyes met and we exchanged smiles. 'Morning!' we said to each other. His ebony face was furrowed, his eyes sad, and I wondered what had brought him to England from the other side of the world. He looked more like a teacher or doctor than refuse collector. Was he doing this work because this was the best he could find to help to support growing grandchildren?
By the time my mother and I were ready to return to her Care Home, he'd disappeared. I carefully pushed her wheel chair along the pavement, and noticed him a little way ahead. We caught up. I nodded in the direction of my mother commenting: 'She's over 100 years old!'
Pleasure and respect swept across his face. He drew closer, stuttering in broken English: 'In my country we'd ask someone this old to give us a blessing.' I realised that my mother understood and was nodding to me. 'Would you like her to do this for you?' His face lit up, and he knelt in front of her on the pavement.
I gently placed her paralyzed hand on his head, and uttered the words I knew she'd want to say herself had she been able to: 'May God's blessing rest on you and yours, now and forever. Amen'.
Three pairs of eyes filled with tears as we parted. My mother was still able to serve God by the quality of life she lived in the Care Home and even at Jake's Burger Bar despite severe disability and suffering.