This morning's reflection, part of the Lord Teach Us To Pray series, comes from Barb Buckham, who lives with her husband, Rich, in the Bartimaeus Cohousing community in Bremerton, WA.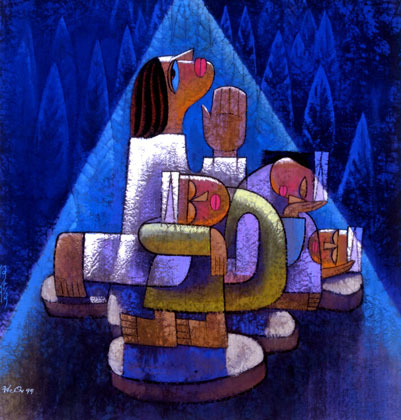 The Lord and His Prayer
Our little congregation is going through N.T. Wright's book "The Lord and His Prayer." As usual, N.T. says so much with so few words. The main theme of the book is that in the Lord's prayer, Jesus is inviting us to enter into his own life and mission. I would not have seen this.
For example, in the 1st chapter on "Our Father in Heaven", N.T. notes that the use of the term "father" started in the Old Testament with Moses.
The first occurrence in the Hebrew Bible of the idea of God as the Father comes when Moses marches in boldly to stand before Pharoah, and says: Thus says YHWH: Israel is my son, my firstborn; let my people go, that they may serve me (Exodus 4:22-3). For Israel to call God 'Father', then, was to hold on to the hope of liberty. The slaves were to be sons.
So when we pray "Our father which art in heaven", we are declaring ourselves as allies in Jesus' revolutionary mission to free the slaves of all humanity from the tyranny of the evil one. It's much more than a proper way of addressing God when we begin to pray. We are declaring ourselves co-conspirators with Him in his mission.
I still come, more often, with my laundry list of requests for others and myself. There is no condemnation in this and Jesus himself encouraged us to keep asking. But I am more aware that to pray is to first ask "Jesus, what are you doing today and how can I join your agenda to bring your Kingdom to earth this day?" I am asking more for a creative imagination to see how the Kingdom of God comes in my life and people around me and in the structures of a culture still mostly or partially held captive by "Pharoah." Rev. 11: 15 tells us ". . . the kingdom of the world has become the kingdom of our Lord and of his messiah. . .(NIV)" May our prayers increasingly be part of the resurrection power that brings in the kingdom of God, a promise we can "take to the bank" as we continue praying our requests, disappointments, joys, and longings.